Before you pick flyers, you must know that what are they, what is their purpose, and why are they the best choice to make?
Flyers are basically a simple type of invitation which isn't given out in private but is rather public. It is one paper or sheet invitation whose main purpose is to spread or promote the word for a company, product, or event.
Now, coming to why flyers are the best choice and why must a person pick them. Flyers are famous as the most inexpensive mode of communication. Moreover, when you are aiming at such a large amount of people or let's say, crowd, then spreading the word for an event or promoting a product isn't an easy task. It is impossible to do so in private and the manager of the event or product can't go home to home, to promote his event or item. This is why flyers are the best bet. It isn't costly at all and the news spreads like fire through the flyers. The person just needs to distribute them in the nearby areas and they keep on growing and the news also keeps on spreading amongst the crowd, easy and quick.
Preview and details of the templates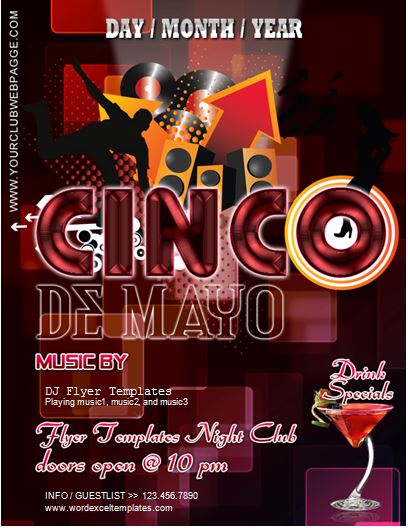 File: Word (.doc) 2007+ and iPad Size 516 Kb |
Download
File: OpenOffice (.odt) Writer [Writer] Size 523 Kb |
Download
License: ENERGY (Personal use only)
(Distribution) by Kate Elizabeth(CEO)
---
In life, we are conditioned in such a way that we tend to celebrate the little joys and wins. It holds importance in one's life to get acknowledged for the milestones that one achieves. Commemorating one's success motivates them to achieve higher goals and achievements. There have been so many events in the past which deserve to be celebrated and rejoiced. Such is the event of Cinco De Mayo.

The name Cinco De Mayo itself means the Fifth of May which depicts the unmatchable win of Mexican over the highly equipped French forces at the Battle of Puebla. The day is celebrated widely in America and Mexico especially in Puebla by throwing parties, parades in which people dress up as French and Mexicans to remember the unforgettable day with piñatas, Mexican food, hat dance, music, fireworks, folklores, patriotic songs and much more.

The Cinco De Mayo parties usually have a Mexican backdrop as a result food for the parties includes tacos, margaritas, burrito, sombrero, nachos, and churros. Common graphics on Cinco De Mayo flyers is that of a sugar skull with intricate designs. Flyers are basically the depiction of Mexican culture in terms of pictures of beers, cactus, and the Mexican food that is generally considered very spicy around the world.

Flyers can be customized according to one's own requirements. For a Cinco De Mayo Party flyer date, time, venue of the event is mentioned. Flyer for the fiesta is captivating with balloons and confetti, colorful and attractive borders mostly in red, green and white so as to incorporate the colors of the Mexican flag and has such great vibes which ensure that the purpose of the party is nothing more than remembering the unlikely victory with zeal and enthusiasm and for primarily promoting the Mexican culture.

Spell-binding, enthralling and dazzling flyers are the choice of every person who wants to throw a worth-remembering Cinco De Mayo party. It is true that to throw a great party, appetizing food and great ambiance is required but a perfect flyer for the party is the crux as it gives a sneak peek of what is to come and evokes one's true sentiments regarding the event.