One of the most crucial things that a parent goes through is seeing their child go through surgery or operation. It is absolutely mind numbing, but many parents go through the ordeal thinking it is for the betterment of their child. To make sure that this betterment is documented on a personal level, a child operations log is maintained which highlights and documents every minor or major surgery that a child has been through. Apart from documentation purposes, a child operations log can help feel the child more involved in his/her medical treatment and be more prone to be responsible for record keeping.
A child operations log, as mentioned above is for documentation purposes for either medical family record or for the child's personal record as well. It should document the kind of surgery that the child went through with, why it was needed, where it was performed, who was the doctor and the nurse that were supervising and conducting the operation along with at what time and what day did the surgery take place. All of this should be mentioned in a table form. If your child is supposed to go through a few more surgeries, keeping a child operations and surgery log would be beneficial for future purposes and help the doctor make better decisions for the future.
It is optional if one wishes to add notes such as post operation notes for better record keeping. These notes would help better in knowing how long the operation took and how long did it take the child to recuperate.
Preview and Details of Template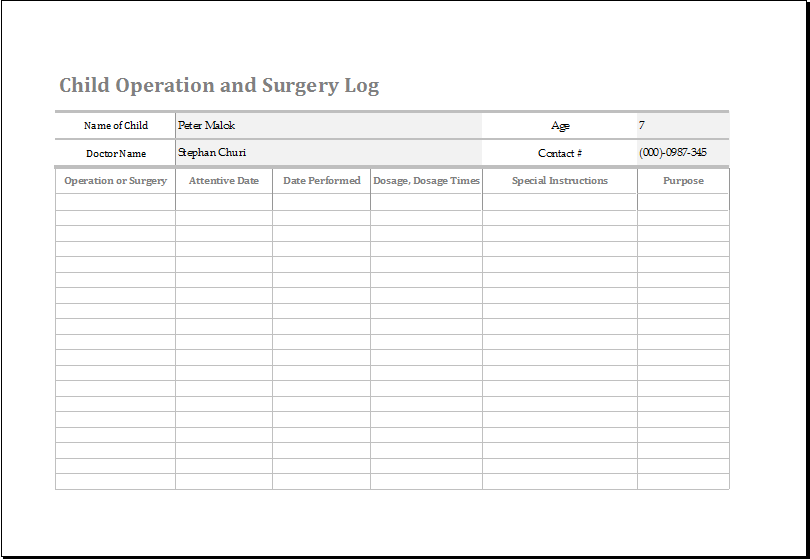 File:Excel (.xls) 2007+ and iPad
Size 35 Kb   |  Download
File: OpenOffice (.ods) Spreadsheet [Calc]
Size 11 Kb   |  Download
License: ENERGY   (Personal Use Only)
(Not for resale and distribution) by Kate Elizabeth(CEO)