A chief administrative officer is responsible for managing the daily operations of a business. They are a part of the senior management and report directly to the CEO. The administrator is a very important role as they add strategic vision to the company. They are highly efficient and have leadership skills. They have to make sure that policies and the vision of the company are achieved by running the company operations effectively.
A chief administrative officer can have a bachelor's degree in administration but a master's degree is a plus. More than the degree, what matters the most is the experience that they have. A chief administrative officer provides overall direction to the company by planning, policy-making and coordinating activities. They even manage the finances of the company. They set achievable goals and objectives for the employees.
They work aggressively to find ways to keep the costs minimum and take care of company contracts and agreements. Every business makes important decisions. The chief administrative officer is involved in making these decisions. A CAO needs to have various skills especially good communication skills as they need to interact with a variety of people every day.
Sample Resume
Summary:
Excellent leader who worked as a Chief Administrative Officer for over a period of 10 years in the telecom and manufacturing industry. Strong organization skills and communication skills have helped to build a strong bond with managers of all departments. A problem-solving approach to reduce the chances of any problems in the fast-paced environment.
Strategic planning has helped to devise plans that will make sure that all departments meet their goals in time. Collaborated with different individuals in the company to ensure the smooth running of all operations and functions. Strong business knowledge has helped to understand and provide support for all departments. Reviewed the performance of the staff on regular intervals and motivated them to achieve success.
Objectives:
My objectives in this job were:
To manage routine administrative operations.
To add strategic value to everyday tasks.
To ensure the smooth running of the business according to the established policies.
Work Experience:
[ABC Company]
My roles in this job are/were:
To develop and implement departmental budgets.
To supervise the marketing efforts of the departments.
To prepare detailed and accurate financial reports.
To motivate the sales staff for creating more leads and realizing them.
To provide instructional leadership to department managers.
To develop and implement a strategic plan for the company.
To review and implement administrative policies.
[XYZ Company]
My roles in this job are/were:
To manage daily administrative issues.
To provide input in business and strategic planning.
To set goals for the managers and department heads.
To report in a timely manner to senior management.
To oversee resource allocation and budgeting.
Skills:
Understanding of business functions.
Knowledge of planning, budgeting, and reporting.
Proficient in soft wares.
Outstanding communication skills.
Interpersonal skills.
Ability in decision making and problem-solving.
Organizational and leadership skills.
Time management skills.
Reference:
To be provided on demand.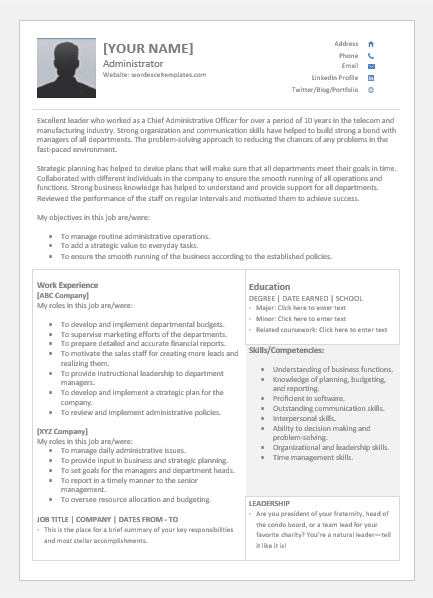 File: Word (.docx) 2007+ and iPad Size 31 Kb |
Download
License: ENERGY  (Personal use only)
(Distribution) by Kate Elizabeth(CEO)
---