Chartered accountants are highly qualified account managers. They are regarded as the most talented and skilled professionals in the field of accountancy. The job of the chartered accountants is same as other accountants but the difference is that the chartered accountants have an additional graduation degree that proves them to be more qualified and knowledgeable than any other accountant.
The main duties of a CA are to analyze the information of accounting so that new strategies can be developed. Another duty is to prepare the annual finance budget of the company and forecast the different situations for the companies.
The resume of a CA is very important if he wants to work as an accountant, finance manager or auditor. All they must do is to include their knowledge areas and skill level in their resume to let the recruiter know about their capabilities. To work as CA, you must possess a bachelor degree in the field of finance as well as the two years' additional degree of postgraduate. Here you can find a sample resume for a certified public accountant.
Sample Resume
Summary:
Professional in the field of finance and accounting with extensive experience of more than 15 years. Rich in the knowledge of every aspect of accounting and finance. Ensures that the costs of the company are organized in an effective manner and helps the firm in balancing the cost. A passionate individual with excellent motivational skills the individual performance at the peak.
Objectives:
My objectives are:
To perform auditing.
To ensure that the returns of the firm have been completed.
To polish my skills so that I can work as a professional account manager in any firm.
To resolve the tax-related issues of the firm by finding and then providing the best solutions.
Work experience:
My work experience includes working in different organizations at different positions. My expertise and key roles are listed below
Preparing the budget details of each client of the firm
Preparing the tax returns of the companies and individuals.
Calculating the installments to be paid by the firm in order the complete tax. 
Managing the tax audits of the governments and provincial departments.
Training new individuals who come in this field and to let them know about the work they must do.
To prepare audit reports, sales invoices, income tax details, balance sheets and to keep track of the performance of the company based on accounting.
Technical skills:
Ability to deal with issues and problems in auditing and in the calculation of tax returns.
Can accomplish corporate goals by increasing its revenue.
Extensive accounting practice and can deal with every aspect of economics.
Core competencies:
Complete knowledge of the fundamental concepts related to accounting and finance.
Excellent verbal and written communication skills.
Able to hold the valid charter.
Best at comprehending everything.
Proficient in the use of computer and much other related software.
Reference:
Reference will be furnished on request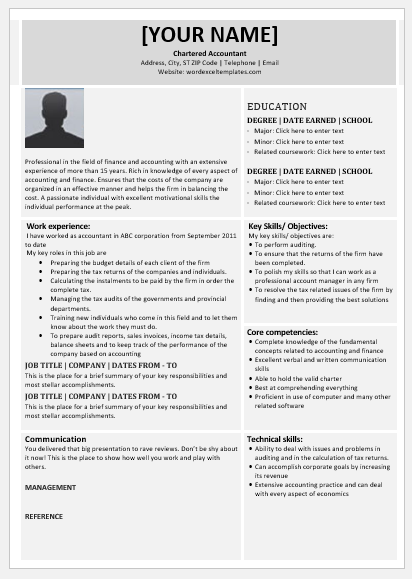 File: Word (.docx) 2007+ and iPad Size 63 Kb |
Download
License: ENERGY  (Personal use only)
(Distribution) by Kate Elizabeth(CEO)
---