A cash payment receipt is a document issued by an organization, which is paying or disbursing money, to any individual or another organization. This receipt contains the details of the money amount and payment so that it can serve as proof that the organization has given the money.
The cash payment receipts are kept in the record file and can be used:
For any future reference.
As proof of payment.
To resolve and address any misunderstandings or issues with the concerning parties.
To match with the accounting records and address any discrepancies.
As disbursing money and issuing cash payment receipts are a common and everyday practice for most organizations, a template is developed in which the individual details can be added easily, every time the receipt is to be issued. These templates can be designed by the organizations themselves or the readymade templates available online and in programs, such as Microsoft Excel, can be utilized. The use of already available templates has some benefits, which include:
Easy to download.
Easy to customize and edit, as per the requirements.
Can be relied on, as they have been designed and developed by the professionals.
Easy to print.
Like the difference in the selection of the template design, the added details on the cash payment receipts may vary from one organization to another as well as the variation may be based on the purpose behind the issuance of the receipts. Nevertheless, the general details included in almost all the receipts are:
Date of payment.
The unique serial number of receipts.
Details of the payee, including name, account details, etc.
Details of the payer.
Amount paid.
Remaining payment, if any.
Mode of payment, e.g. cash, cheque, money order, etc.
Reason for payment.
If any time of usage of product or service is involved, it can be mentioned as well.
As mentioned before, cash payment receipts are widely used with the frequency as close as the daily basis. Some of the reasons for cash payment and the issuance of receipts are:
Payment of the taxes.
Payment of the day to day expenses, such as stationery.
Payment of the utility bills.
Payment of salaries.
Payment for small expenses, such as vehicle maintenance.
Payment to creditors and vendors.
Payment of any sort of rent, such as rent of premises, rent of vehicle, etc.
Payment to individuals for utilizing their services.
For these different reasons and varying uses, an organization may have several receipt formats and templates. Some receipts, e.g. receipt of salary receiving may be very simple in nature while the others, such as tax cash receipts, may be complex and require detailed information.
These cash payment receipts are not only required by the organization or the government departments, rather the individual or the organization receiving the payment may demand it as well. This is important for its accounting records and transaction records.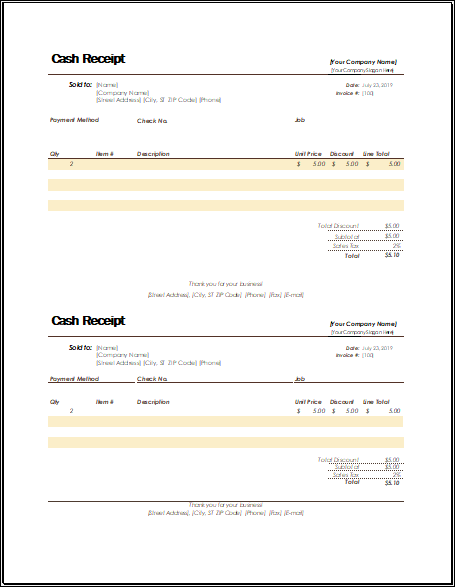 File: Word (.docx) 2007+ and iPad Size 28 Kb |
Download
View more samples –>
---