People around the world have different hobbies and interests. Some are adventure loving while some are more towards the creative side. Having skills that you can portray on the paper make you connect to the people easily. Calligraphy is such a skill that allow you to have your writing skills portrayed on a piece of paper. The calligraphy is such a skill which involves the use of various instruments, brushes, pen tips and other instruments to give a skillful and creative lettering experience.
Calligraphy is mostly used in the special events including the wedding cards, invitations, maps, birth and death certificates etc.
The Importance of calligraphy papers:
Calligraphy papers are as much important as the need of skill in calligraphy. You won't want your project to be ruined just because of the paper quality. The scattering of the ink is a common issue with the papers used in calligraphy. Using graph papers or print papers might cause the ink to bleed and ruin the whole paper. Using a paper that would not absorb the ink would be beneficial.
Calligraphy papers and their types
Calligraphy papers is a term that is used specifically to categorize the papers that are used for the calligraphy for various purposes.
Here is a list of their types:
Sized papers:
These papers are sized meaning that they undergo a special treatment during their manufacturing process that does not let the ink to be penetrated or absorbed into the paper. As the ink is on the surface so it does not scatter by absorbing into the paper's fiber.
Neutral papers:

Papers which have a neutral pH are best suggested for the use since acidic and basic papers are prone to oxidation in the air and they become brittle and yellow upon exposure to air. One such example is of newspapers.

Smooth papers:
Smooth surfaced papers are a good option but some sort of grabbing is required by the ink to stick to the surface of the paper which is best provided by some roughness on the surface. Hot pressed, cold pressed and watercolor papers are mostly used for calligraphy purposes.
Calligraphy papers online:
These papers are generated online as well. You can find a variety of these papers on our website specially designed for the amateurs and the professionals.
Preview & Details of Template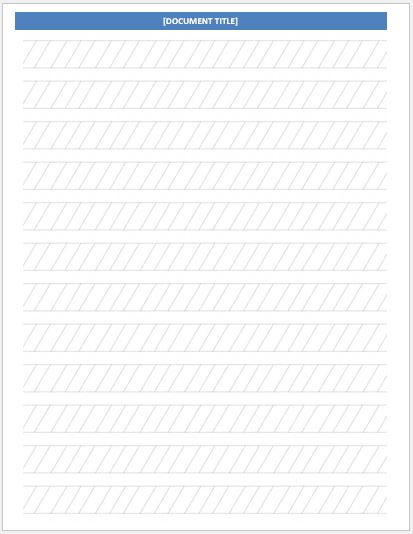 Calligraphy Papers
File: Word (.doc) 2003+ and iPad
Size 24 Kb | Download
Open MS Word –>File –> PRINT –> SELECT [no. of papers to print]
License: ENERGY [Personal Use Only]