Lawyers also use business cards in order to promote their services. When they want to maintain their clients and get more clients, they get a business card. A business card has become one of the best ways for different attorneys and the legal counsel for getting their services to reach maximum people.
As a professional lawyer, you cannot sit back and wait for the client to come to you. You will have to promote your services and market yourself so that people can contact you in order to avail your services. The business card is considered as one of the best ways to meet new clients.
This business card is not only used by lawyers only to get new clients but there are also being used in order to make a strong bond with other lawyers in the industry.
The use of business card gives the impression that you have a sense of Identity. It is very important for a lawyer to create an attractive business card. There are different designs available on the internet that can be the design inspiration for the lawyers.
Another important factor to be considered is getting information about how to represent the information on the card. It is also important to know what suits your business the most.
Tips for making a business card:
You can design a business card for yourself. Make sure that you include all the detail on the card that is necessary for you to make the card recipient communicate easily.
In order to make the card look attractive and catching, impart a professional look to your card. Keep the cards simple and neat. Also, make sure that you have used the right color combination for making the card. For example, if you have used a darker color in the background, use the light color font on it.
It is fine to use one side of the card however if you want to use both sides, you can add the information on one side and logo on the other side of the card that will make your card visually appealing. A more attractive business card will enable the clients to remember you and your services.
#1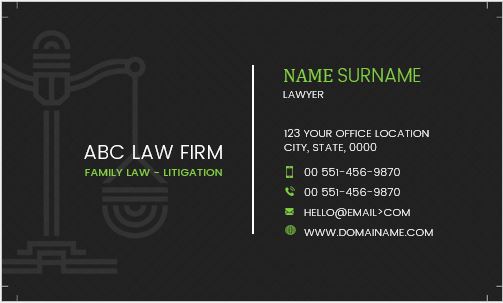 The black, the beauty. A card that is perfectly fit for lawyers' job. As you can see you can edit and fill it completely with your personal information. Print it and make an impression.
Dimension: 3.5″ x 2″
[For Word: (.docx) File: Personal Use Only] [Size: 310.0 KB]
---
#2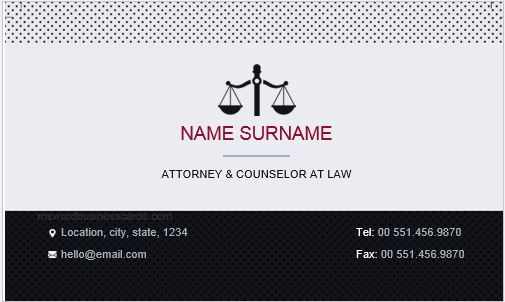 A card with black as a partial color. The strip at the bottom makes it look stunning. The logo and your name will make it perfect to deliver it today.
Dimension: 3.5″ x 2″
[For Word: (.docx) File: Personal Use Only] [Size: 274.0 KB]
---
#3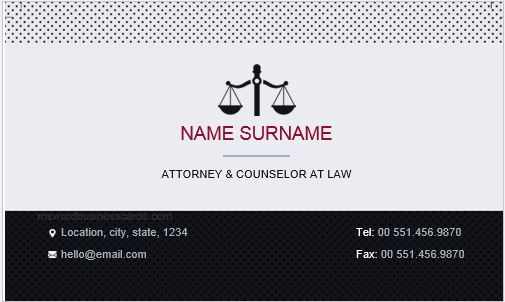 Again, black as a portion of the card. Although black and white occupy the most part but still, you cannot say it is. The third color has given this card a unique look.
Dimension: 3.5″ x 2″
[For Word: (.docx) File: Personal Use Only] [Size: 201.0 KB]
---
#4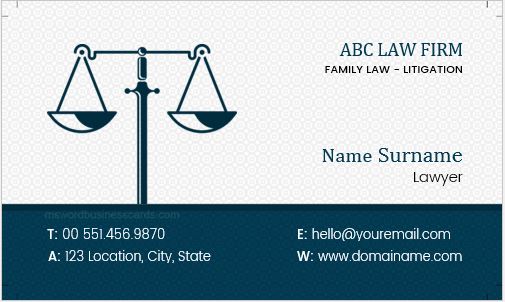 No black. Yes, the card with no black color being used. If you want, you can remove that 'justice icon' or the logo and put it your own. Still, you can keep that space blank. Try with these options to see which suits your requirement or likeness.
Dimension: 3.5″ x 2″
[For Word: (.docx) File: Personal Use Only] [Size: 313.0 KB]
---
#5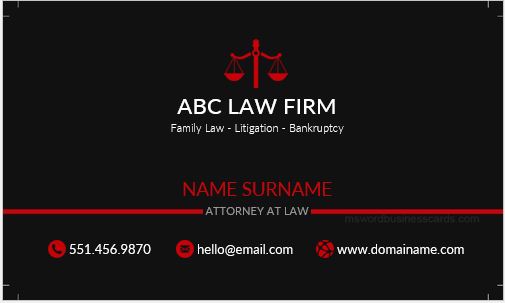 A perfect black business card at the last on the list. Many of our customers have written to us to use black as much as possible. And here using it makes a sense of course. Don't you think this design is looking awesome? we think so. Write to us in case you like some different color. We will try to update it as soon as possible.
Dimension: 3.5″ x 2″
[For Word: (.docx) File: Personal Use Only] [Size: 44.0 KB]
---