Blood Sugar
Blood sugar is the glucose that is transported through the blood stream to the cells in a body. This helps the cells to get energy from the glucose. The foods we consume have different levels of sugar. Our body needs sugar but in a required level. But to maintain a healthy life, our body needs to have a balanced amount of sugar in our body which is neither too high nor too low.
The human digestive system breaks down carbohydrates into glucose molecules. Once we eat food, our digestive system breaks the carbohydrates into glucose and is transferred to the blood stream from there directly. Blood sugar levels fluctuate throughout the day. As we eat, our blood sugar level increases.
Monitoring blood sugar levels is very important to avoid the long-term consequences and treating your body accordingly. With the revolution in new technology, people can monitor their blood sugar levels even at home using the portable devices. It is very crucial to judge the highs and lows of the blood sugar level. Using the blood sugar chart, it will be easy to remember the implications of the medicines used. The doctors recommend checking the blood sugar before and after consuming meals.
The blood sugar levels rise and fall during the day which can be an indication of serious problems. The blood sugar chart is a good medium to test the blood sugar levels. But the accuracy of the blood sugar chart is still debatable as different countries have different ways to use it. The blood sugar chart shows the sugar levels for the non-diabetic as well as diabetic patients. The patients can manually check their blood sugar level using a glucometer and then the chart can help them read their observations. The blood sugar chart presents all the blood sugar levels with a brief explanation of the indicators.
The ideal blood sugar level varies from age to age. It can be different for young kids and may vary for adults. The chart can be useful to study the patterns and adjust the medication accordingly. Eating habits can also be altered depending on the sugar levels.
Preview & Details of Template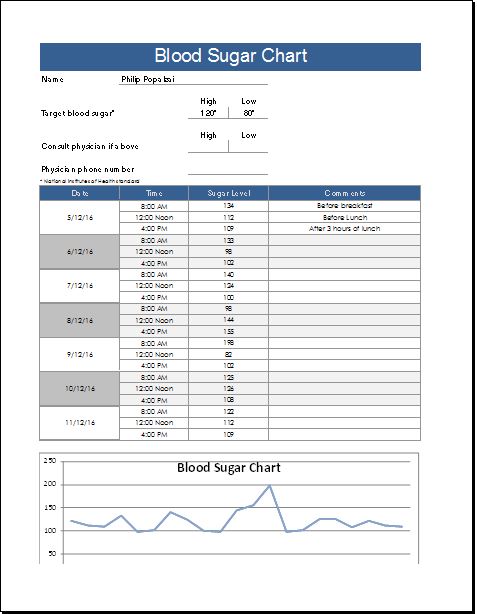 File: Excel (.xls) 2003+ and iPad
Size 42 Kb   |  Download
File: OpenOffice (.ods) Calc [Cal]
Size 18 Kb     | Download
License: ENERGY   (Personal Use Only)
(Not for resale and distribution) by Kate Elizabeth(CEO)
You can enter sugar level for three times in a day. Adjust the timings according to your schedule and preference. Given values are example values and have nothing to do with the user preferences.
*This chart is designed for an educational purpose and to help individual record their personal blood sugar level.
* We are not responsible for any medical or health condition for the user in relation to the use of this template.