A man is a social animal. He cannot live but in societies. When societies are built, they follow some norms. Happy occasions are celebrated together while sad moments are mourned side by side. This keeps people of a society bonded. Eventually, through ages, human beings have learned to celebrate more and more things. For example convocation celebrations, promotion celebrations, mother's, father's or teacher's day celebrations etc. The purpose of these celebrations is that the success be enjoyed and people be given homage at least once in a year. It is to make each other's day special.
Birthday is one such celebration. People celebrate birthdays to wish their loved one and celebrate that day when he was born to declare that they are fortunate to have him here in this world. Since over the time, birthdays have taken a lot of importance. One who has his birthday waits for wishes, gifts and cards and the rest of the people plan to surprise the person in some unique manner.
A birthday note card is an important gift as anything else. It presents your heartiest greetings to the person. Even if you fail to afford a birthday gift, a birthday note card can be economical for you anyway.
Because birthday note cards are celebration and greeting cards, they should be colorful, attractive and filled with heart touching wishes. When cards are made with an effort from the heart, they leave long lasting effect and help strengthen your bond with the person.
Not everybody is good at designing. And there's no bad to spend some time in looking for attractive birthday note cards online if you can't make one by yourself. Here are some birthday note cards that are modifiable and instant to use. We hope this would help you make your friend's birthday a good day.
Preview and Details of Template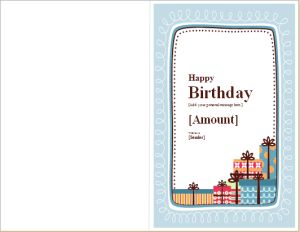 File: Word (.doc) 2007+ and iPad 
Size 380 Kb   | Download