ID badges
ID badges are commonly used in every organization for identification and security purpose. The ID badges that are used in banks also have a bar code which ensures that the security of the bank is strong. The design of the badges is very simple. The badge includes the details of the bank employee such as name, Date of birth, designation, and picture.
Bank Employee's ID Badges
There are many organizations that have a strict policy of wearing ID badges. The main objective of the ID badge worn by a banker is to verify that he is the same person as he is claiming to be. The information provided by a person in any application form can be matched by the information given on his ID badge. The ID badge should be issued by the bank in which the person is working.
The banks are always in danger since they deal with money. Just to ensure that every banker working in the bank is safe, ID badges are issued to them. Each person has his badge with a unique picture, barcode, and ID number.
These badges are kept unique so that only legitimate users are allowed to wear them. In the case of fire or any other emergency, the movement of the employee in the building of the bank can also be tracked through these ID cards. Every morning, a banker has to swipe his badge at the security checkpoint in order to be verified as a legitimate user of the card before reaching his desk.
If a company has offered a discount to its employees, the employees will have to show this badge in order to prove that they are the real employees of the organization so they will be able to avail the discount. The employee should provide the latest picture of him so that he can be identified easily.
About Template
The templates for banker's photo ID badges are available on this website. You can download these templates free of cost. The templates provide all the features that are needed to prepare a professional-looking ID badge.
Preview and Details of Templates
#1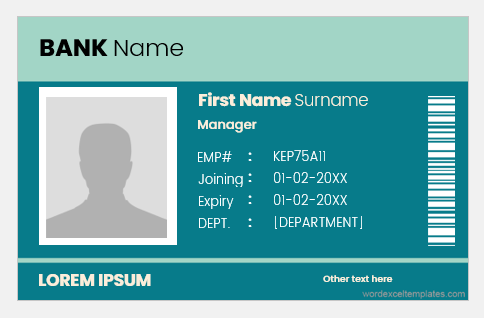 #2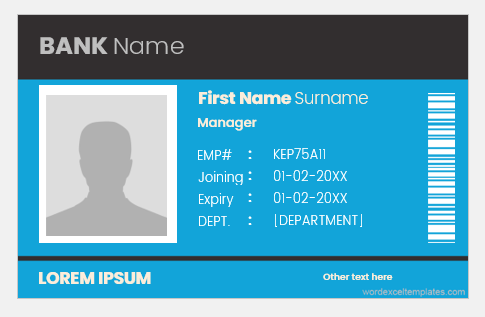 #3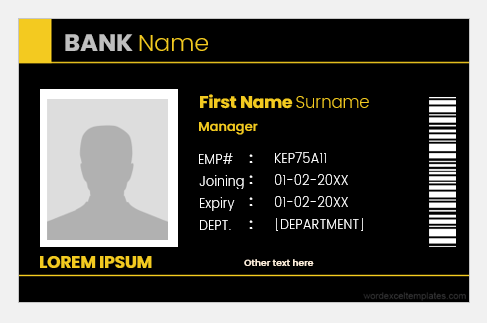 #4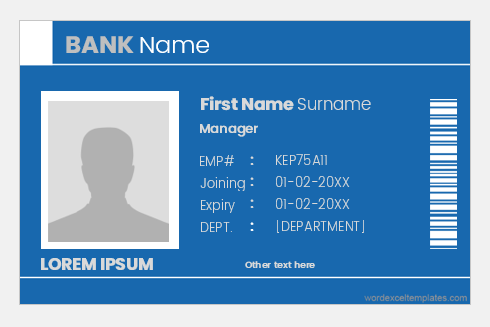 #5