Preparing the audit plans for the company is the major task which is assigned to the audit manager. Audit Manager is given the most important job role in any firm since auditing is the foundation based on which the profit and loss of the organization can be estimated.
An audit manager also prepares all the material which is needed in the process of auditing. To work as an audit manager, you are required to have minimum bachelor's degree in the field of accounting. Although there is a specific job role of the audit manager, they can be given some other tasks of accounting based on the needs and requirement of the firm they work in. The organizations choose audit managers with great care since they have a major role to play.
To be recruited as an auditor in any firm, it is important to have a strongly written audit manager. Make sure that your resume strictly follows the rules and the format of the standard resume. Also, ensure that your resume covers all those areas that are needed to be written in the resume. It should also highlight all your skills and competencies that can be helpful for you in getting a job as an audit manager.
Sample Resume
Professional Summary:
A professional auditor with complete knowledge of the procedures of auditing and accounting. Recognized as an expert individual who can perform teamwork with accuracy. A brilliant audit manager, who has skills to keenly observe anything that can help him performing the auditing. Sound professional attitude, strong organizational and analytical skills.
Extremely meticulous, insightful and inquisitive person. Well experienced in leading, supervising and coaching members of staff. Firm knowledge of UK GAAP and international auditing standards. Had spent years in creating value and foster growth among clients. Generate plans and arranges activities. Very patient and not get easily ruffled.
Objectives:
My objectives are:
To acquire a job position of audit manager in a well-established firm
To accomplish my all goals as an auditor
To perform the execution of the audits with strong abilities and extensive knowledge
Work experience:
My work experience includes the following tenures along with the key roles that I have performed. The expertise is however not limited to the said roles.
To coordinate with all the stake holders of the company so that the working of each department can be streamlined
To provide the training and practical assistance to inexperienced auditors
To lead all the internal trainings
To communicate with the management of the clients in order to solve their problems
To demonstrate the management skills related to the project
To review the reports generated by the management
To engage in the compilation engagement
Technical skills:
Exceptional presentation skills
Can give excellent reviews on the generated reports
Can point out weaknesses in various systems
Proficient in use of computer.
Complete knowledge of using QuickBooks
Core competencies:
Excellent communication and inter personal skills
Able to implement various work processes in order to increase the productivity of the firm
Strong mathematical concepts
Capable enough to set the high standards of quality
Experienced enough to manage the audits of the company
Proficient and expert in the process of problem solving
Reference:
Reference will be furnished on request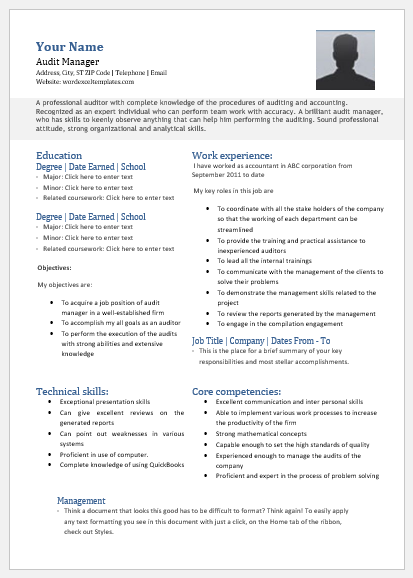 File: Word (.docx) 2007+ and iPad Size 59 Kb |
Download
---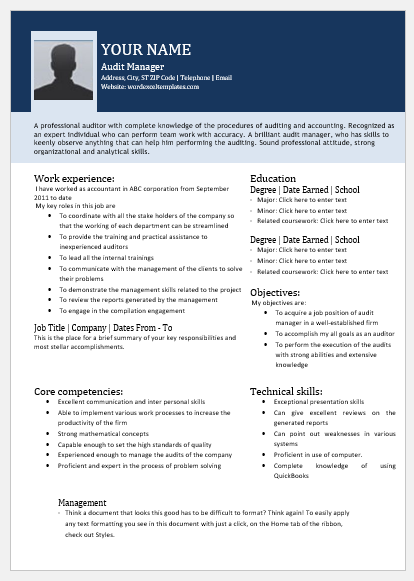 File: Word (.docx) 2007+ and iPad Size 59 Kb |
Download
---
File: Word (.docx) 2007+ and iPad Size 60 Kb |
Download
---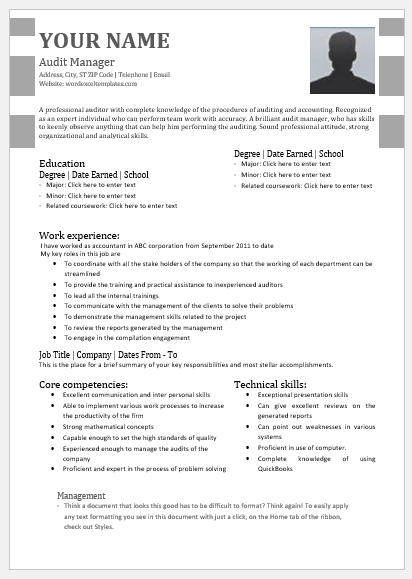 File: Word (.docx) 2007+ and iPad Size 57 Kb |
Download
---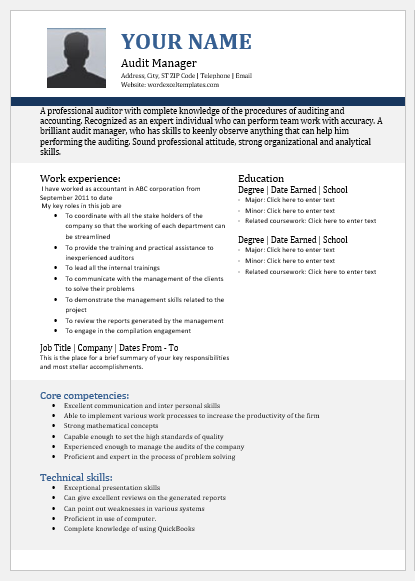 File: Word (.docx) 2007+ and iPad Size 58 Kb |
Download
License: ENERGY (Personal use only)
(Distribution) by Kate Elizabeth(CEO)
---