An application for working as a teacher from home is written to the school, college, university authorities, or heads of the departments or other such hiring persons. In this application, the applicant requests to get a job as a teacher working from home. Teaching is a commonly known profession in which a teacher teaches and trains the students for future trends and help him in becoming an educated and civilized person of society.
Due to the outbreak of Covid-19, schools have been closed globally and teaching is being done through online systems. While applying for the job of teaching online, one should keep in mind the subject he is applying for.
The qualification of the applicant must match with the subject he is applying for. Besides, working online can be tricky, so there the teacher should be good at managing online classes, engaging students in the virtual class systems, developing the models that are effective in online learning as virtual learning is very different from common classroom learning systems.
For such an application, the applicant should display his computer skills, critical thinking skills, and management skills besides the imperative and integral information about himself like qualification, working experience, career objectives, and personal information.
Following is a sample application of the same kind and can be used for the purpose of applying for a job like that.
Sample Application
Re. Applying for the Job of Teacher Working from Home
Dear Sir,
I am penning this application to you with the reference to the announcement for the performance of fulfilling the vacant positions for the job of teaching in Modern Poetry and Prose, advertised on The News on 20th April 20XX.
My name is Susan Beth and I am from Nogales, Arizona. I did my Masters in English Literature from the University of Yorkshire, England in 2011. Then I started working as a research assistant in Mishit Publishers where I worked for three years. Then I started teaching at Michigan High school in Michigan. I taught English Prose to undergrads of English Literature for five years.
I am capable of managing the students online and engaging them in the course and also to the other language learning skills. I can make them learn different genres of poetry and prose through the modern methodology of model development and creative writing. I am a computer learned person and I can engage classes online efficiently.
I think I fit in the eligibility criteria and deserve to get an opportunity to work as a teacher of English Poetry and Prose from home.
Thank you
Sincerely
(Signature)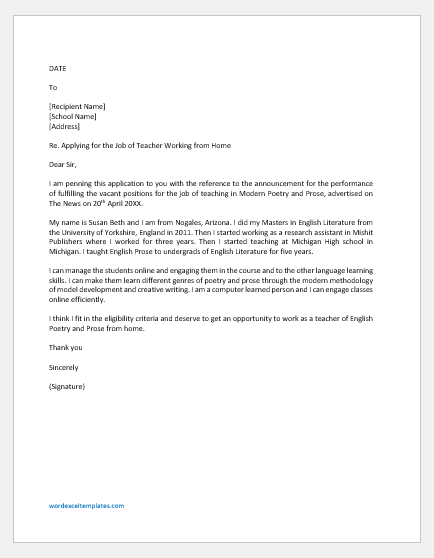 File: Word (.docx) 2007+ and iPad
Size 15 Kb
Download
---