Re. Proposal Letter for the Animation Video Services Required w.r.t. Request for Proposal Letter (RoPL) Dated [Date]
Dear [Client's Name], first, I would like to thank you for your kind consideration. I have received your request for the proposal letter asking for an overview of our services, budget requirement, and potential for variations and diversity. I am writing this proposal letter to answer all your queries. This letter solely shows our services and does not entertain any claim of service till the contract is signed.
Introduction:
We, at the [Name of your company], provide video animation services to brands, agencies, and other clients who want video animation for YouTube videos, advertisements, Facebook and Instagram Reels, and other tutorial-like content. We have two main departments; one is responsible for the marketing of our content which includes social media marketing and business development services, and the other team deals with animation, sound imaging, videography, technical tool experts, motion pictures experts, and IT professionals.
We also have a team of content creators who come up with innovative ideas, help in content creation, and design the content for our team. Our team is very collaborative, professional, and efficient. Most of our workers are from high-ranked universities and keep diplomas and certifications in their relevant fields from prestigious institutes.
Objective:
Our main objective is to provide quality services with detail and focus. We rely on the initial consultation with our clients and do everything to align our service with the client's interests and requirements. Our team is result-oriented and always focuses on the results required by the client.
Services:
We provide video animation services in all fields; i.e. for entertainment, explainer videos, fun videos, tutorials, brand videos, and many others.
We provide:
Inceptive Consultation: We provide a team who are dedicated work on a single project at a time. Our team meets the client and has a detailed consultation session on the project requirement, target audience, objective, and end results.
Video Animation; Traditional and Non-Traditional: We provide both traditional and non-traditional kinds of video animation as per the client's requirement. We provide non-traditional video animation with the latest technology, AI-powered tools, and integration of 3-D objects and animation.
Sound Imaging and Voice Overs: We provide services of sound imaging and voice-over services to video animation clients as well. We use high-quality, latest tools, and novel technology to achieve the desired results.
Product Description and Subtitles: We provide services for writing product descriptions and subtitles. Our expert and well-versed writers have extensive experience in the field of product descriptions and the use of marketing tool language.
Final Editing and Revision: We provide required editing services in accordance with the client's demands. We give the animation video a final look, send it for multiple tests, and then hand it over to the client in multiple formats. We also provide single-revision service to our clients but in case of more than one revision, extra money is charged.
Budget:
The budget for the video animation service cannot be decided until we are clear about the client's requirements, target audience, and services. Therefore, the budget is always kept negotiable. For a general idea, basic video animation can cost from $[x] – $[x] subject to various factors mentioned above.
Delivery and Timeline:
The general course of time required for the video animation service is approximately one week subject to change in the package plan, service requirement, client's requirement, or other working conditions.
We are pleased to let you know that we are offering various discounts to our clients depending on the services they require. We look forward to working with you on this project. We hope this opportunity of working together can make our team collaborate and work together on future projects as well.
If you have questions regarding the proposal, please let me know so that I can answer them to clarify before our first meeting on this project. You can also contact our project manager at [mention the email address] to schedule a meeting to discuss further.
We are looking forward to hearing from you.
Thank you!
Best Regards,
[Your Name]
[Your Title]
[Name of the Company]
[Signature & Date]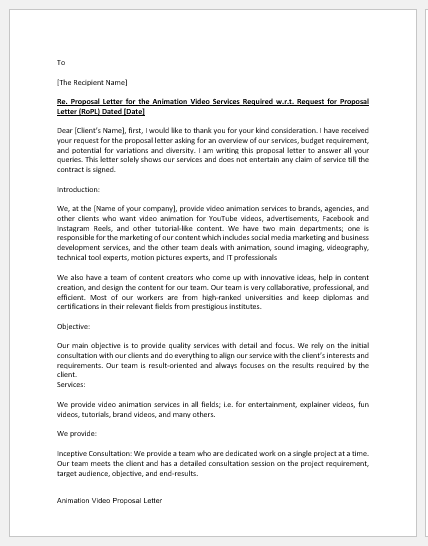 Proposal Letter File 49 Kb