An administrative assistant skills cover letter is a letter written when there is a job posting of an administrative assistant or a related position that requires skills of an administrative assistant. This letter is written by a candidate or an individual, who is applying for that position and is addressed to the potential employer organization.
The cover letter is like an opening statement and hence marks the first impression. Usually, a cover letter is sent along with the resume for any applied job due to the many associated benefits, such as:
It can be used as a marketing tool by the candidate to promote himself and explain his strengths, achievements, and skills properly.
If the employee has the right administrative assistant skills, that are essential for the position, he can emphasize them in the cover letter, in addition to simply stating them in the resume.
A well-written and interesting cover letter can engage the potential employer's attention, and he might select the candidate for the job.
Due to these and many other benefits, the cover letter should be given due importance. The candidate needs to write the letter with the correct, accurate and suitable information as well as make it interesting and attractive, along with the proper usage of language and grammar.
When an administrative assistant skills cover letter is being written, the candidate can choose the information he needs to share with his potential client through the cover letter. However, the general details that are included in such letters are:
Date.
Candidate information.
Company information.
Reference of the job posting.
Qualifications, experience, and skills of the candidate.
Convincing statements regarding the candidate's matching strengths with the job requirements.
Benefits of selecting the candidate for the company.
The attached documents.
Salutation and signature.
Sample Administrative Assistant Skills Cover Letter
Date
Name
Address
Dear Ms. Emily,
I am writing this letter in reference to the position 'Administrative Assistant' posted on your company website on 8th February 20XX.
I have worked as an administrative assistant at ABC and XYZ Limited. My experience of five years in these two companies has polished my administrative skills to a great extent. I attended various training and was able to do a short course in 2019 on administrative and organizational skills as well. I have learned many tactics to manage and deal with administrative tasks and processes. My communication skills and friendly personality makes it easy for me to take the whole team along, which in turn results in effective and efficient administration.
I believe I will be a positive addition to your company's administration, and I can bring along my experience and skills. In addition, I can provide training sessions for your employees and share with them the tactics and strategies that I have learned in my training.
I am attaching my resume and other required documents with this cover letter. Kindly, let me know if any other information is needed at [X].
Looking forward to hearing from you soon.
Regards,
Sarah Johnson.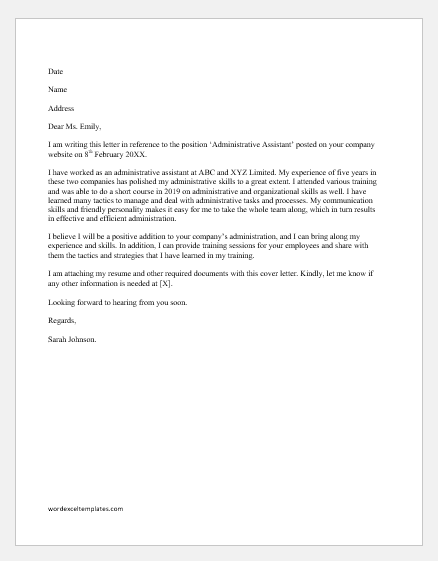 File: Word (.docx) 2007+ and iPad Size 19 Kb |
Download
---