It is a pleasure to have a large number of close friends and family members. Staying in contact is essential for maintaining strong ties. However, it is difficult to remember all the names, phone numbers, and addresses altogether at a time. This is one of the many limitations of the human brain. Therefore, other means are sought in order to overcome this shortcoming.
An address book is used by many individuals to save the contact information of loved ones. Similarly, it also plays a significant role in the world of business. Information about clients can be recorded in an address book for future reference. In short, this record proves beneficial for both personal as well as business use.
Various types of address books are available. They range from simple to sophisticated ones. The general purpose is to record basic contact information of individuals and maintain an address list. Additional contents can also be added.
A personal address book, for instance, can also be used to record birth dates of dear ones. On the other hand, the one used for business can contain email addresses and mobile phone numbers apart from the postal address of individual clients.
The majority of address books come with custom labels. It helps in finding a particular contact in the book instantly. In order to make this job quicker and simpler, digital address books are also available. Likewise, an online address book may be used.
The benefit of turning to the latter is that backup can easily be created. This means you will never lose any of your contacts. It is also easy to update an online address book. This is important in case a certain individual in your address list changes the postal address.
A customized address book can be created with the help of a template. You can choose the contents you prefer. Moreover, the layout can also be according to your predisposition. You can decide how the information will be presented in your personalized address book. The contents can vary according to whether the book is for personal or business use. The template can be molded in any way. Specific requirements can, therefore, be fulfilled.
Preview and Details of Template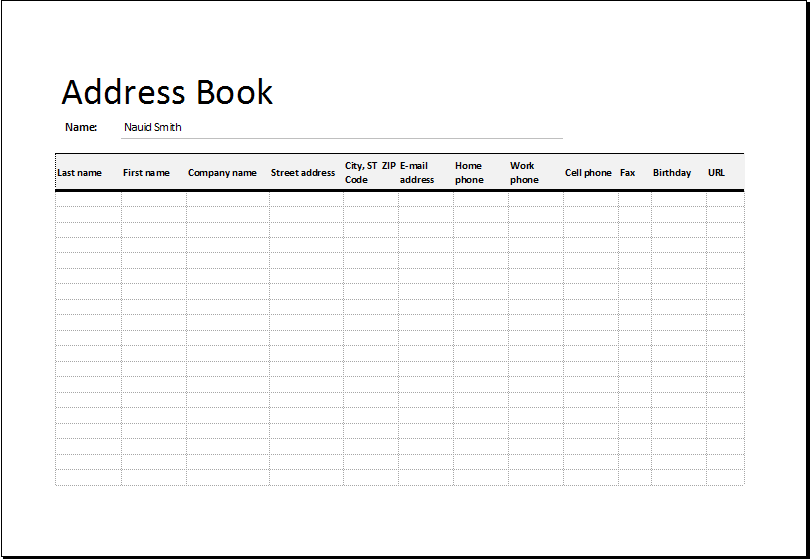 File:Excel (.xls) 2007+ and iPad
Size 32 Kb   |  Download
File: OpenOffice (.ods) Spreadsheet [Calc]
Size 13 Kb   |  Download
License: ENERGY   (Personal Use Only)
(Not for resale and distribution) by Kate Elizabeth(CEO)