For centuries, academic calendars have been an aid used by students, faculty, and institutions alike. In this write-up, we shall reveal the core of calendars, explore the different types that exist, and understand the purpose they serve in the academic realm specifically.
What is a calendar?
In simple layman's words, a calendar is either a single page or a series of pages showing the days, weeks, and months of a year. This calendar is often found hung on a wall or set up on a tabletop. It isn't just a date keeper but a tool used to schedule, plan, and make a flow of life events.  From birthdays to deadlines, calendars capture the rhythm of our days, weeks, months, and years, providing a roadmap for our journey.
The mix of different human cultures, religions, and traditions means the celebration of different events that are unique to each culture, religion, etc. These diverse needs have birthed a range of calendars. Each type reflects the unique rhythm of society, aligning with its agricultural cycles, religious observances, or historical milestones. The globally adopted calendar is a Gregorian calendar. This calendar comprises 12 months and 365 days, aligning us with the seasons.
When we talk about academics, the academic realm does not follow the universal Gregorian calendar, where a year consists of 12 months. In the world of studies, the academic calendar takes center stage. This specialized calendar is more than a timeline; it is the complete layout of the academic journey, providing structure, order, and a roadmap for the people working in educational institutions.
Types of Academic Calendars
Traditional Semester Calendar:
In this calendar, an academic year usually consists of two terms, each lasting 12 weeks. The academic year starts in August and ends in early May. The first term is the fall term, which is followed by a winter break, and the second term is called the spring term, which is followed by a winter break. An average full-time student would take 4-5 courses per term, making up to 15 credit hours.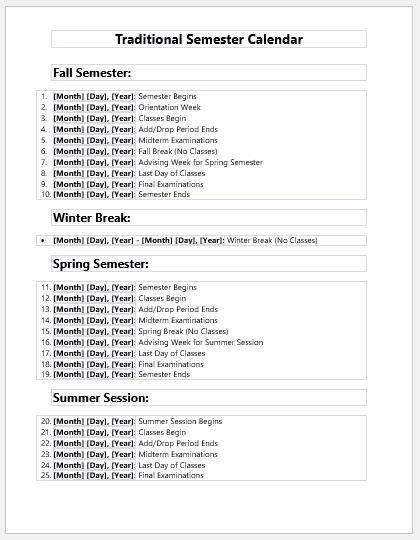 Trimester Calendar:
A student is allowed to take 3 to 4 courses per trimester, depending on how many credit hours each course requires. The benefit of this calendar over the traditional calendar is that it reduces summer breaks for a continuous learning experience.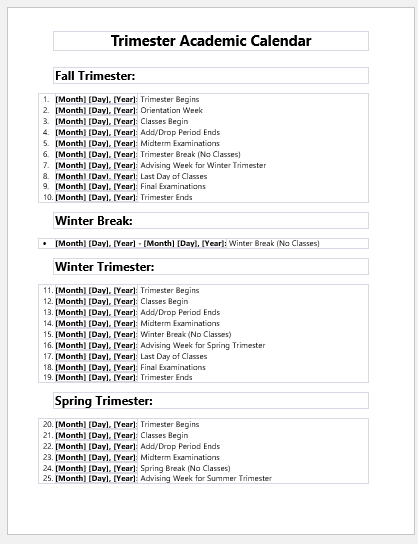 Quarter Calendar:
A quarter academic calendar breaks the academic year into four quarters; each quarter has a duration of 3 months. There is fall (beginning in September), winter (beginning in January), and spring (beginning in March). There are shorter breaks between quarters, which helps promote a steady learning momentum.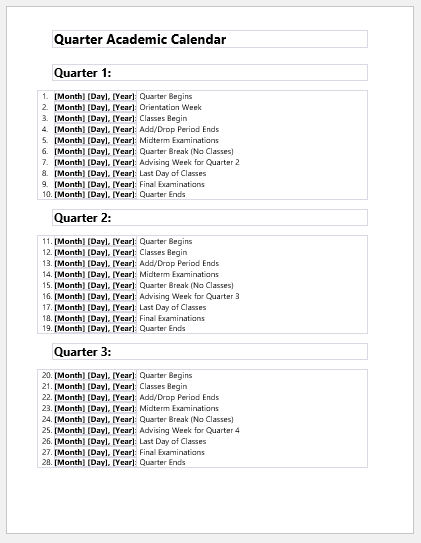 Users of Academic Calendars
The three beneficiaries of the academic calendar are:
Students: plan coursework, track assignment deadlines, and prepare for exams.
Faculty: organize lectures, structure syllabi, and schedule exam periods.
Administrators: coordinate academic programs, allocate resources, and plan institutional events.
The academic calendar helps the above users in their everyday academic planning, providing them with a flow in which all three users collaborate while attaining their targets.
Differences between Traditional and Modern Academic Calendars
Traditional Academic Calendar:

Operates on a two-semester system (fall and spring) with a summer break.
Follows a fixed, standardized schedule.
Limited flexibility in course offerings and scheduling.

Modern Academic Calendar:

Embrace trimesters, quarters, or block scheduling for enhanced flexibility.
Adopts digital tools and online platforms for real-time updates and communication.
Offers a more personalized and adaptive learning experience.
The reason behind the evolution from traditional to modern academic calendars is the changing needs of students. To adapt to these changing needs, institutions came up with more flexible options. Moreover, with the new digital era, we see digital integration facilitating seamless communication, personalized learning, and a more dynamic approach to education.
In a student's life, an academic calendar is a guide and a companion that shapes their future endeavors.