It is the priority of almost every institute to arrange everything ahead of time. The academic calendar is a very helpful tool when you want to have a glance of the whole year while planning for the week in detail.
The template for the academic calendar 2017-18 is available on this website in MS Excel format. These templates are also free to download. The best thing about these templates is you can download them on your PC without being worried about the compatibility of the template with your device. The template has a huge flexibility with formatting that makes it easy to adjust according to the needs of the user.
The academic calendar 2017-18 template has a variety of applications. It can be used while organizing different activities that you must organize in your school or college. The calendar includes holidays also. The orientation of the template can also be set according to your needs.
Preview and Details of Template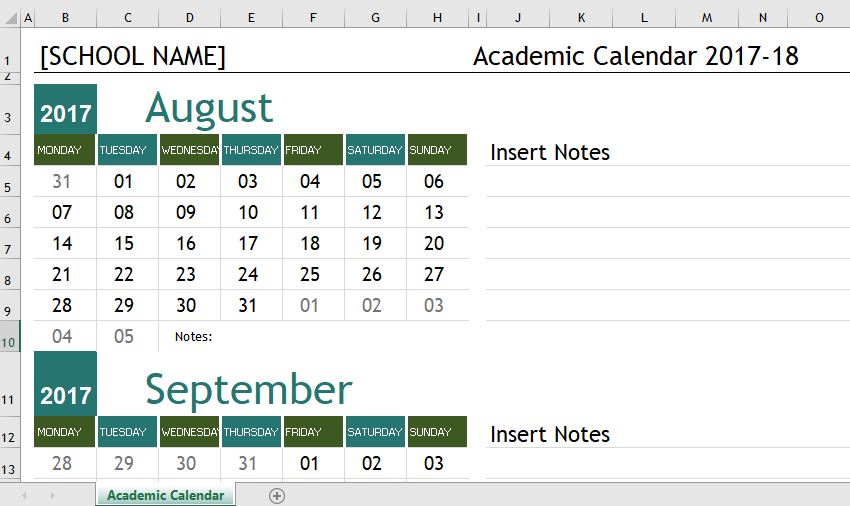 Academic Calendar Template
File: Excel (.xls) 2003+ and iPad 
Size 31 Kb | Download
*Select any year
*Select any month to start
*Select any day to begin the week
*Add notes
License: ENERGY [Personal Use Only]
---
Uses of academic calendar 2017-18:
Academic calendars are prepared in almost every educational institute to plan different activities. It also acts as a vacation planner. These calendars are helpful in organizing and maintaining the discipline in the school.
The calendars being used in the institute are available in different types such as the student calendar, assessment calendar, assignment calendar, vacation planner, appointment calendar, etc.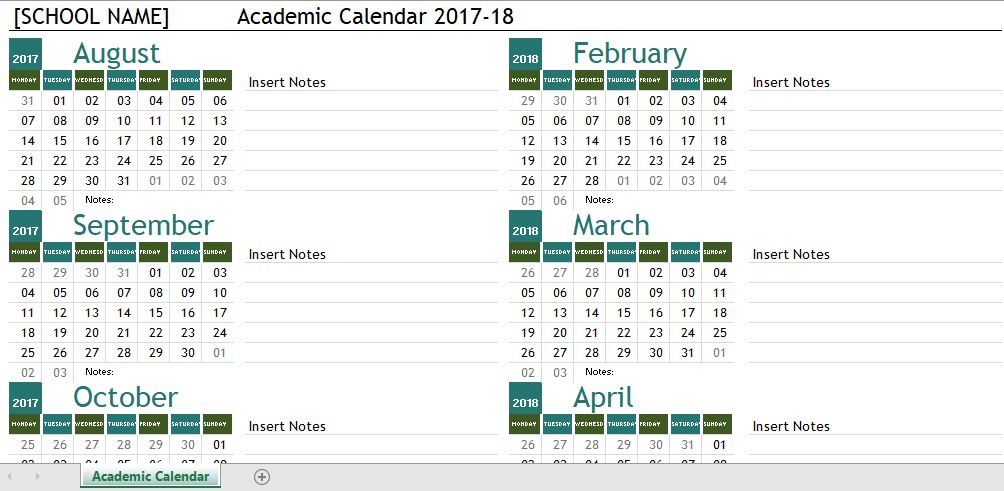 File: Excel (.xls) 2003+ and iPad 
Size 31 Kb | Download
License: ENERGY [Personal Use Only]
---
Advantages of using academic calendars:
The school administration uses these calendars to keep track of the dates on which different administrative tasks are required to be performed.
The due date of students' fee can also be tracked through these calendars.
They are useful in starting and ending the enrollment of students in various courses being conducted by the Institute.
The exam schedule in any institute is also prepared using academic calendars. The exam starting and ending dates, date of result announcement and lots of other activities related to the exam are managed using these academic calendars.
The academic calendars 2017-18 has brought various innovative ways for the user to use them. These templates are adjustable in a variety of environment.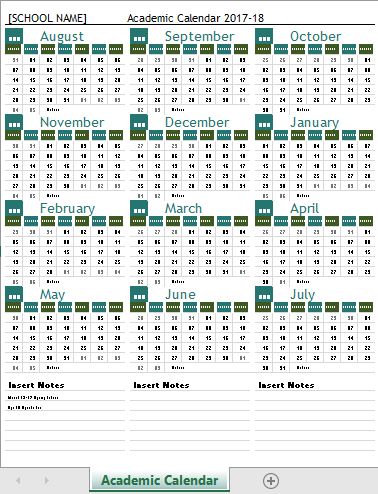 File: Excel (.xls) 2003+ and iPad 
Size 31 Kb | Download
*Select any year, month or day to begin the week
*One-page print
*Add notes
License: ENERGY [Personal Use Only]