The COVID-19 that originated from China in 2019 and declared to be a pandemic now, has impacted our routine lives. We are changing the way we work, socialize, and do our businesses. Although the coronavirus had an impact on major industries, it has changed the way we will do our jobs in the future.
One of the strategies to control the coronavirus is to restrict human contact. Due to the lockdown around the globe, employers have been forced to encourage work from home. Now, millions of employees are working from home and exploiting technology. Online meeting setups and video conferencing services such as zoom have gained a lot of popularity during these times. But this situation has caused a bigger challenge for the employees as well as the employers. Home is now the new office. Companies such as Zoom and Microsoft have reported a huge spike in demand. Although work from home is convenient for most people, it has its own challenges as well.
The possible reasons for working from home
1- Flexible office options
Working from the office means a dedicated workspace. Working from home means you can set up your office anywhere you want. Although it is highly encouraged to dedicate a specific place for work to enhance your productivity, still you can work from anywhere you like. You can enjoy the rain by sitting in your windowpane or enjoy your coffee while working from your kitchen counter.
2- Save money
Don't we do a job to save money? Yes, we do. One of the major costs that involve in doing a job is the travel expense. When you work from home, you are no more incurring the additional costs. Work from office comes with its own set of expenses. Travel being the most significant, then you have to pay for your daily lunch, and you have a cost to maintain yourself too. Working from home means you can prepare your own lunch, wear PJs, and work from any corner of your house.
3- Schedule your own work
Work from home means you can be the boss of your own schedule. You can be flexible about your work timings. Remember when you had to keep up with the time because your client had a meeting at 2 p.m. Now being at home, you can schedule the meeting any time that suits your client and catch up with them online.
4- Learn more
Working in an office set up means you have all the experts for doing their jobs. If you have a problem with your software, you can just ring the IT team and they will fix it for you. Work from home means you have to do everything on your own. This makes you learn more online. Not just for your office work, work from home also gives you time to learn more skills that you were not able to do before due to your hectic routine.
5- Effective meetings
Who enjoys meetings? At least I don't. What could be better than you are sitting in your comfort zone, having your cup of coffee, and enjoy your online meeting where you do not have the hassle of traveling, being late, or being overwhelmed. Just with a few clicks you can add all the people to your meeting, load your presentation, and get started. You can use the chatbox to take questions and you can share the minutes of the meetings easily by emails.
6- Effective communication
Going to the office means meeting all your colleagues every day. Most of the people are introverts and find it hard to socialize. E-meetings can be helpful even for the ones who are introverts. Work from home means you have to value your communication more than ever. You know you won't be meeting your workmates every day and e-meetings or other modes of communication are the only options. This will make you a better communicator and will help you build better channels of communication.
7- Better focus
Did you think work from home means less focus? You are wrong. With a little more effort, you can be more focused if you work from home. Set a dedicated place to work. Decorate your workstation the way you want, you won't get this opportunity at work. Work from home makes you more responsible as you can set your own daily goals and complete your work on time. Now you do not have to worry about your colleagues dropping by and asking you for help.
8- Office politics
Work from home means no more office politics. The way you cannot choose your family, the same goes for your colleagues as well. Working in an office environment means a lot of pressure where you have to meet deadlines, improve your skillset, and at the same time you have to deal with office politics as well. Office politics can be the most stressful thing for any employee. Work from home means you can only focus on your work, no more gossip between the employees, and no more leg-pulling. 
Request letter to work from home -Sample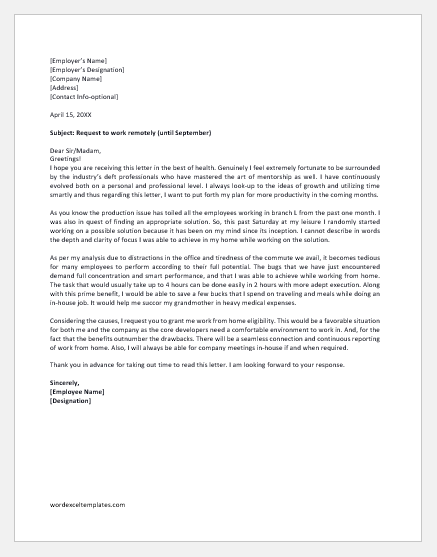 File: Word (.docx) 2007+ and iPad Size 28 Kb |
Download
---