What is a Hospital Letterhead?
A hospital is such a healthcare department or institution which works hard day and night for the treatment of ailing patients and helps them to get the improved and better life by the provision of best healthcare facilities possible over there. The hospital letterhead is the official document and the professional demand. It is indeed a page which comprises of the data about the hospital in a professional way, most often in the header portion.
Design of Hospital Letterhead:
The designing of the hospital letterhead is a tedious task. Our experts are highly professional as they design the letterhead of your esteemed and reputed hospital in the most peculiar manner. You can easily use it for mailing. The design used for hospital letterhead is as creative and unique as it should be. Nothing more, nothing less.
The colors used are attractive yet professional. We leave no stone unturned in designing the masterpieces to make your business and work even more convenient. It may be a cancer hospital, nursing hospital, animal hospital or any other. For each type of hospital, the peculiar design would be the beneficial one. The header would contain the prime information regarding the hospital.
Recognition of hospital by this advertising tool:
The letterhead for the hospital is a way of recognition too. It is because it is the perfect advertising and promotion tool which represents professionalism too. No matter either it is a government hospital or the private one, it needs to survive in the competitive environment. For this, the hospital letterhead is a sagacious step.
It includes the name of the hospital and the beautiful logo of it. Besides this mandatory and appealing information in a stylish way, the contact number, proper address, fax and email ID should be mentioned on it. Mentioning these would be a plus point and the need of hour too. In case of a private hospital, the name of doctor, physician or specialist can be mentioned as per the hospital needs.
Preview and Details of Templates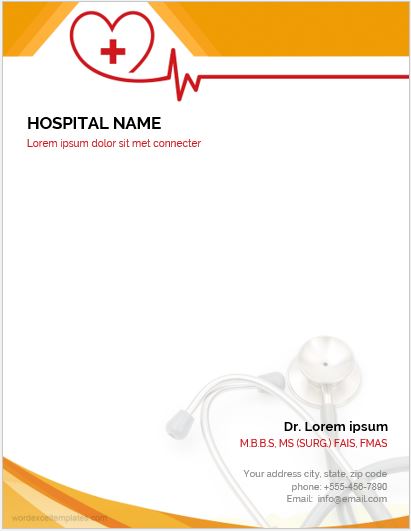 Letterhead Template -1
File: Word (.doc) 2003+ and iPad 
Size 818 Kb | Download
[Personal Use Only]
---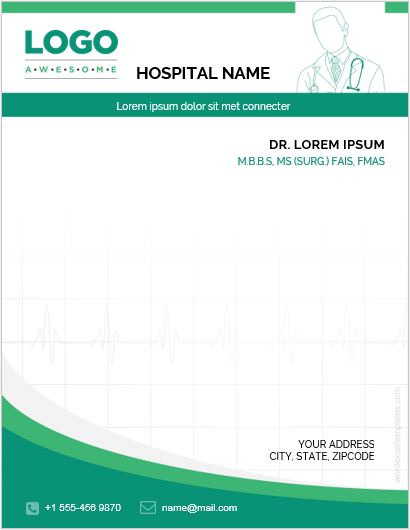 Letterhead Template -2
File: Word (.doc) 2003+ and iPad 
Size 526 Kb | Download
[Personal Use Only]
---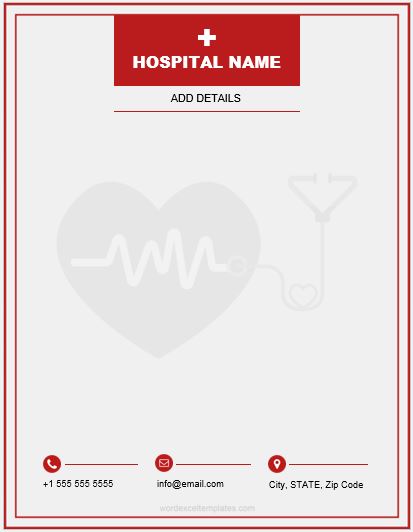 Letterhead Template -3
File: Word (.doc) 2003+ and iPad 
Size 203 Kb | Download
[Personal Use Only]
---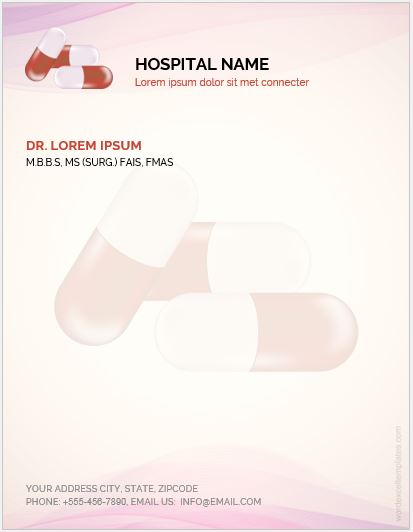 Letterhead Template -4
File: Word (.doc) 2003+ and iPad 
Size 908 Kb | Download
[Personal Use Only]
---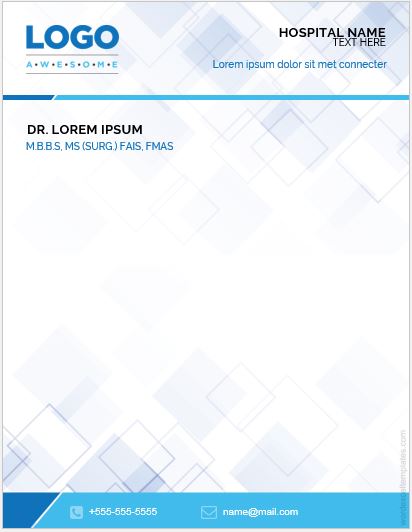 Letterhead Template -5
File: Word (.doc) 2003+ and iPad 
Size 983 Kb | Download
[Personal Use Only]