Gift Certificates
A wedding is a very sacred and essential ritual in most of cultures and countries of the world. The reception hosted by the bride and groom and their family members is to share their happiness and good memories with others. It's a time of celebration and enjoyment.
Various countries and nationalities celebrate the wedding events according to their cultures and values. They are different for different people. But the common thing between most of the wedding celebrations is the ritual of giving gifts to the bride and the groom.
Choosing Wedding Gift Certificate:
There are many options and a variety of gift items available that one can choose from. Some even present the couple with cash so that they can buy their own choice of stuff.
Another very popular option for gifts to the newly wedded couple these days is the wedding gift certificate.
Many online business companies and entities are offering this service at special rates. This gift is a good selection of all those people who do not want to give cash but at the same time want to present the couple with something that reflects their affection and consideration.
Depending on the preferences and liking of the bride and groom, the wedding gift certificate can be purchased. It can range from travel certificates to spa vouchers to shopping certificates. The choice is open. So the next time to go to a wedding this can be an ideal gift for anyone.
Suitability of using Wedding Gift Certificate:
The ready to use wedding gift certificate template we have prepared for you is designed using Microsoft Word. It is accompanied by all editing options as well. Feel relaxed as you have reached perfect satisfaction with your requirement. Click on the link given below and have a well-designed wedding gift certificate ready to use.
Preview and Details of Template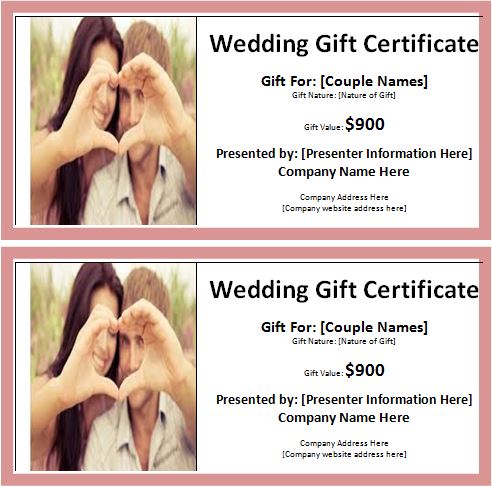 File:Word (.doc) 2007+ and iPad
Size 185 Kb   |  Download
File: OpenOffice (.odt) Writer [Writer]
Size 53 Kb   |    Download
License: ENERGY   (Personal Use Only)
(Not for resale and distribution) by Kate Elizabeth(CEO)