Valentine's Day Tea Party Invitation
VALENTINE'S DAY & PARTY INVITATIONS
Undoubtedly, Valentine day is the day of escalating love and adoration for a human being around the globe. And bearing the importance of the day, we are always tempted to invite people to tea parties on Valentine Day. These parties are a source of pleasure and love for all the friends and members of society present at the occasion.
Despite the positives of the event, the planning for the event takes a lot out of you. Most important aspect of the party is to extend an invitation to people you want to invite to the valentine day tea party. Obviously, you must decide that what kind of company you want to have your tea party. For instance, the norm is to invite friends on these kinds of parties. After making your mind up for the category of guest, try to carve an invitation card that suits the people you want to invite on the party.
For instance, you would use formal language for formal friends and family members, but if are inviting close friends, just casually narrate the details about the event. But still, you must give details about the timing and dress code explicitly. Most importantly, Valentine tea parties have a specific dress code; therefore, it is imperative to inform invitees about the dress patterns of the party. After the requisite details, say thanks in advance to all of your invitees. You must not forget to use stamped envelope because it is not appropriate for invitees to pay for your invitation.
PREVIEW & DETAILS OF TEMPLATE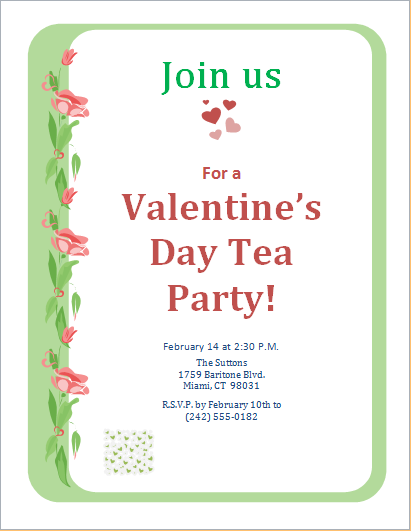 File: Word (.doc) 2007+ and iPad 
Size 83 Kb   | Download
File: OpenOffice (.odt) Writer [Writer]
Size 36 Kb   |  Download
License: ENERGY  (Personal Use Only)
(Not for Resale & Distribution) by Kate Elizabeth(CEO)