Valentine's Day Gift Certificate
Love, Greetings & Valentine's Gift Certificates
Love is in the air on the fourteenth day of the second month. Everywhere you go, you see reds, pinks, cupids, and hearts everywhere. Lovers seek out to find the most extravagant and unique present for their loved ones, couples try to outdo themselves and singles spend the time loving themselves. As much as chocolates, flowers and stuffed teddy bears are in demand during that time, gift cards seem to dwindle out of the long array of presents.
People seem to think that gift cards are insipid and unimaginative. But little do they know that Valentine's Day gift cards are a win-win situation! Just imagine what if you gave your loved one a present which they may not like and all your hard work and effort would've washed down the drain.
But if you put a gift card along with the present, then the chance of the whole day being ruined decrease instantly! You can salvage the day and you're present by adding a gift card as well! Just make sure that you get a gift card from a mall rather than just one store, give your loved one some options!
Although you will have a lot of options in terms of the look of the card, go for something that truly depicts the Valentine spirit. A red or pink colored one might do the trick! Many gift cards have space at the back where you can write something personal. Always use that space and add a personal touch to the card.
Preview & Details of Template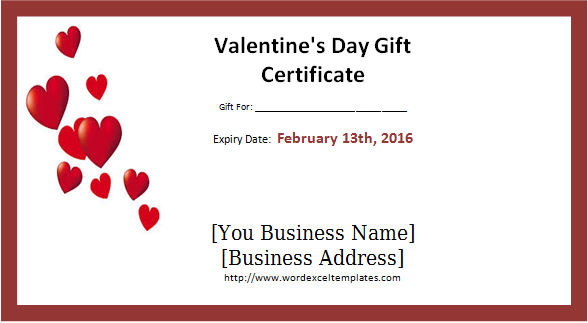 File: Word (.xls) 2007+ and iPad 
Size 188 Kb   |  Download
File: OpenOffice (.odt) Writer [writer]
Size  60 Kb  |   Download
License: ENERGY  (Personal Use Only)
(Not for resale & distribution) by Kate Elizabeth(CEO)