US 2016 Election Tracker Template
Election Tracker
As the Election Day, along with its challenging activities approaches near, people who are responsible for promotions such as bloggers, writers, and media personnel are often seen stressed out due to a great level of workload. If you've been exhausted by the increasing number of election tasks, then you simply don't have to worry now because Microsoft excel's new US election tracker template is here to manage all your election work effectively. Using Excel apps, you can easily be able to connect with real-time election results, creating your blogs and news sites more popular and relevant.
About Template
An election tracker can be extremely valuable during the election season as it provides a great credibility to bloggers and online news writers. Election season brings a lot of activities and works pressure for promoters. It becomes very difficult to keep in mind all the important things. It is also not wise to leave important tasks on others, especially when these require special care. The given tracker template takes care of all important election tasks. It is a highly reliable tool which delivers results in both figure and graphic forms. It has the ability to compare the data all by itself saving a lot of valuable time for candidates.
Another great feature of this unique template is that you can remain aware of other candidates' position throughout the election process in a most effective way. It is a free to use highly reliable tool for candidates who are planning to run for elections coming up in future.
Preview and Details of Template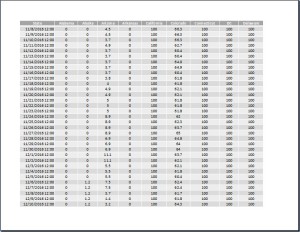 File:Excel (.xls) 2007+ and iPad
Size 401 Kb   |    Download
File: OpenOffice (.ods) Spreadsheet [Calc]
Size 207 Kb   |    Download
License: ENERGY   (Personal Use Only)
(Not for resale and distribution) by Kate Elizabeth(CEO)