Trophy Award Certificate Sample
Trophy Award Certificate
Achievements need to be awarded. Appreciation, saying good words or awarding an individual for some achievement is a way of recognizing his/her efforts. A trophy is a symbolic representation that serves as an award to recognize an individual's success. It is an evidence of merit of one's qualification. Most of the time trophies are used to award at sports events from school level to professionally organized festivals. Winning athletes or teams are awarded beautifully designed trophies to recognize their efforts and outstanding achievement. A trophy marks a victorious sign.
A certificate along with trophy marks the achievement in a glorious way. It is a practice that carried out to give certificate along with trophy across the whole world region. Certificates can also be awarded separately. A professional design certificate is an all time need for this purpose. To award trophies along with certificate is a life-long honor record.
The sample trophy award certificate given here is professionally designed and ready to serve the purpose. It has been prepared using Microsoft's Word software that enables a user to edit or customize it accordingly. Although the trophy award certificate provided here is equipped to contain all necessary text, layout, and design which can be the best use in its original format. The design and layout are all editable. One can download and open this award trophies template using OpenOffice's Writer or Microsoft's Word software. The color scheme, font size, and style can be changed as per user's requirement. The trophy award certificate can be download by following the links given below. A user can download it for completely free as there is no money to pay.
Preview and Details of Template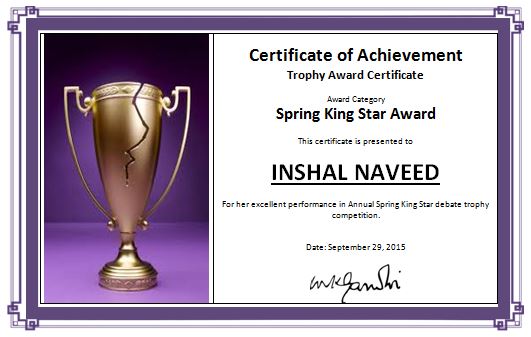 File:Word (.doc) 2007+ and iPad
Size 99 Kb   |  Download
File: OpenOffice (.odt) Writer [Writer]
Size 66 Kb   |  Download
License: ENERGY   (Personal Use Only)
(Not for resale and distribution) by Kate Elizabeth(CEO)