What Gift Certificates are made for?
When you are looking for special items to present to a friend, family member or any other person it sometimes becomes very difficult to make a purchase decision. On occasions like Valentine 's Day, Christmas, Thanksgiving, promotion or any other special event, giving and receiving gifts has become a common practice. It helps improve the bond of love and care between the two parties. But at times you may not have the time to browse around shopping malls and arcades to find the gifts of your choice.
One of the very best options that are available these days for giving out to family and friends is the gift certificates of different types. They are economical and convenient. Based on the preferences and liking of the individual you can select the gift certificate that is most suitable for him or her.
Common types of Gift Certificates
Some common types and forms of gift certificates include salon gift certificate, restaurant gift certificate, and shopping gift certificate or tattoo gift certificate. The list can be very long and infinite. One of the options that are a very common gift for all types of people is the travel gift certificate template. They have been in function and can be used for varying purposes.
How is Travel Gift Certificate Template ready to use for?
If your friends have just got married or engaged, then travel gift certificate template is an ideal gift for him or her as a couple. Depending on your budget and liking, you can select a gift certificate that suits your needs and requirements. You can present this certificate as a tool for the bond of love and affection. Travel gift certificate can be given before or after any of your beloved one complete or is going to travel somewhere around including honeymoon traveling.
Preview and Details of Template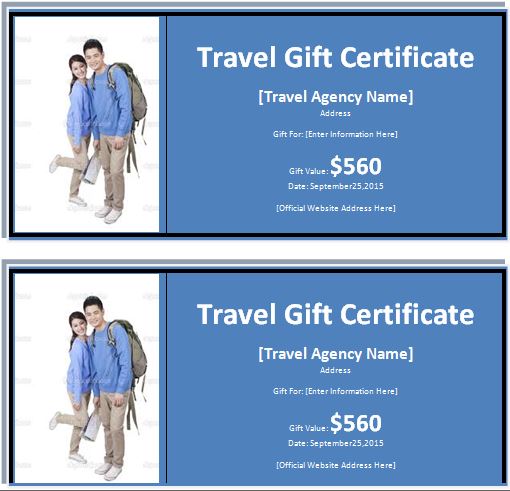 File:Word (.doc) 2007+ and iPad
Size 184 Kb   |  Download
File: OpenOffice (.odt) Writer [Writer]
Size 38 Kb   |    Download
License: ENERGY   (Personal Use Only)
(Not for resale and distribution) by Kate Elizabeth(CEO)