Tattoo Gift Certificate Template
Inspiration of Tattoos
Many people around the world want to decorate their various parts of the body with symbolic tattoos and embellishments. They like to have tattoos on their backs, arms, legs, chest and in many cases faces as well. But this is a very different kind of a liking and not all people approve of this type of body intrusion. With the growing trend towards adopting global fashion fads and figures and following celebrity footsteps to make your own personality, body tattooing is becoming a very popular activity.
Tattoo Gift Certificate: A professional expertise
All over the world, there are specialized skilled professionals and artists who master the art of tattoo making. They have opened up their outlets and shops which are famous among the tourists and tattoo lovers of the region. So if you have a friend or family member who likes to have their body decorated by using tattoo or want to add a symbol to show support to a cause, then you can give them a tattoo gift certificate template which they can use to get the tattoo of their choice. The tattoo gift certificate provides a free option of tattoo making and the person does not have to pay a single time for the service.
Acceptance of Tattoo Gift Certificate Template
All you have to do is to visit the tattoo shop of your choice and ask them for the purchase of a tattoo gift certificate. You can also browse the internet and find such gift certificate templates for sale by various websites and companies. We are happy to offer this gift certificate template for free to our visitors.
Preview and Details of Template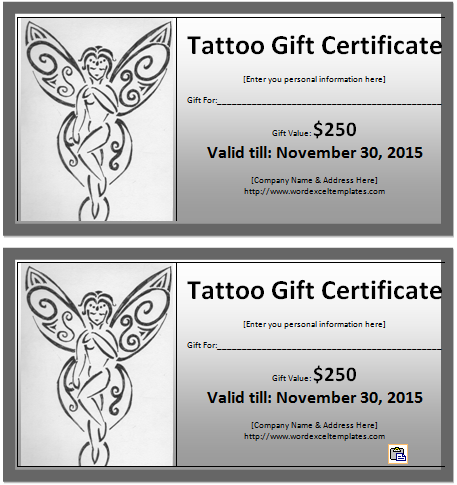 File:Word (.doc) 2007+ and iPad
Size 745 Kb   |  Download
File: OpenOffice (.odt) Writer [Writer]
Size 316 Kb   |  Download
License: ENERGY   (Personal Use Only)
(Not for resale and distribution) by Kate Elizabeth(CEO)