Supervisor Assistance Model Template
Supervisor Assistance
A supervisor's role in an organization is very critical and important. Whether it is production, procurement, supply or any other form of work, it needs to be supervised all the time. Some companies have supervisors in all departments while in others one supervisor looks over the affairs of multiple departments or functions. Because of the fact that he/she has a lot of chores and tasks on his/her hands, it is important to keep him/her updated.
The supervisor template has been designed and drafted for the same reason. They are used as a highlighting tool or method for the necessary and important points that need to be remembered by the supervisor. These tasks or points are important for optimal performance and roles in any company or business entity.
About Template
The Sample templates can be found on the internet. Just search accordingly and download the template. It is a very informative and useful document that helps in embedding the best of the supervisory techniques and methods needed to fulfill the particular assignment. The template consists of an empty document that can be filled by the user according to his/her own requirements and needs.
It is not a very complex document and requires only basic information and data about the daily tasks and activities of the supervisor. It may vary from company to company according to the nature of the business and the industry in which it is working.
Preview and Details of Template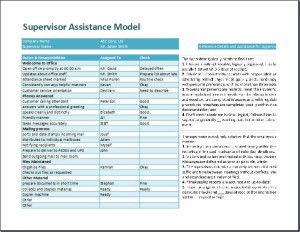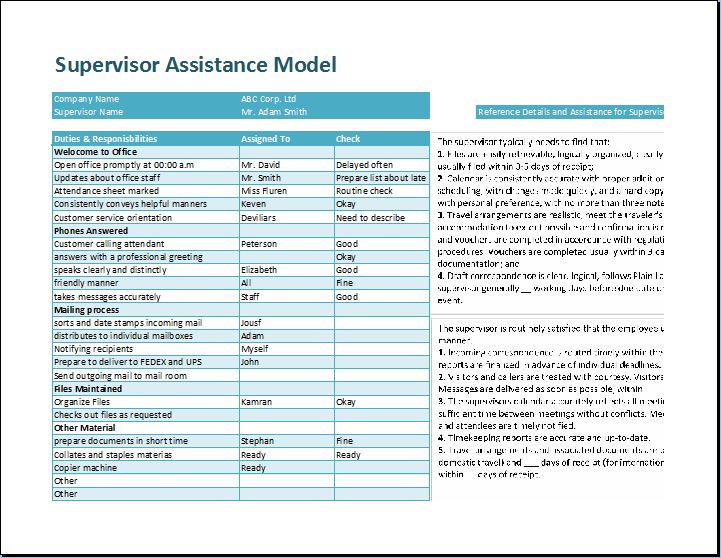 File:Excel (.xls) 2007+ and iPad
Size 22 Kb   |    Download
File: OpenOffice (.ods) Spreadsheet [Calc]
Size 17 Kb   |    Download
License: ENERGY   (Personal Use Only)
(Not for resale and distribution) by Kate Elizabeth(CEO)