Student's Going to School Checklist
Going to School Checklist
Kindergarten school checklists provide great benefits to parents who are planning to enroll their children in school for the first time. It is a wonderful tool which ensures that parents do not face any form of trouble during this important phase in the lives of their children.
The school checklist for parents has lots of benefits for first time school going children. It helps parents in remembering every single detail related to school which makes their children's first day very much comfortable and trouble free.
A school checklist focuses on many aspects such as preparing your child mentally for his/her first day, making surveys for finding the best school for your child's needs, shopping for necessary items to gear up your child for study and many other important factors.
The uniform which includes clothes and shoes that are specially designed for schools.
Books, pencils, papers, erasers, sharpeners and other important items for writing.
Water bottles or juices to keep your children hydrated all day long.
You can also include small toys to keep your children entertained at school, as the first day may become stressful and boring for them.
Be there early to receive your child and offer gifts as rewards for making through the first day successfully.
Lunchbox preparation which should include healthy food items instead of fast food in order to ensure that your child has a healthy time at school.
Preview and Details of Template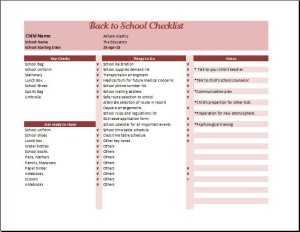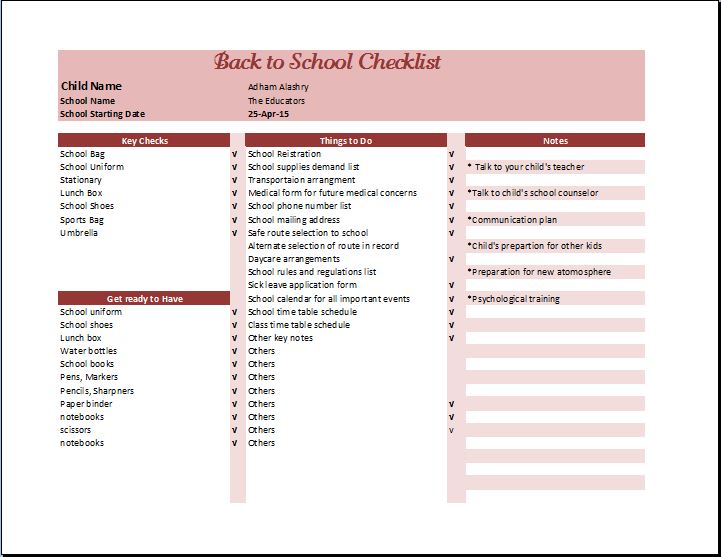 File: Excel (.xls) 2007+ and iPad
Size 22 Kb   |    Download
File: OpenOffice (.ods) Spreadsheet [Calc]
Size 19 Kb   |    Download
License: ENERGY   (Personal Use Only)
(Not for resale and distribution) by Kate Elizabeth(CEO)