Student Semester Schedule and Planning Template
Semester Planner
There are a number of educational institutions working in the world. The main aim of these institutions is the provision of quality educational services to their clients or students. Just like any business organization, educational institutions also require a lot of systematic planning and execution of those plans. Their operations need to be fully organized and functions would only run smoothly through proper planning and a systematic approach.
About Template
To keep the operations of a school or college running smoothly it is important to work with a lot of official documentation. One such document is the semester at a glance-class Schedule & assignment planner. This is a very helpful and handy document that is equally beneficial for the students and teaching staff.
The semester planning template allows you to see a quick preview of the semester that you are about to start. It describes the dates and timings of the classes and courses and how the semester would be broken up into important events and activities like mid-term, finals, projects and presentations.
The semester system and its duration may vary from institution to institution but the basic components remain the same. The semester planning or class schedule & assignment planner is also very helpful for the teachers as they can plan their educational activities and assignments according to the semester break up.
If you are looking to create a student semester and class schedule along with assignment planner you are at the right place to find and download a copy for yourself.
Preview and Details of Template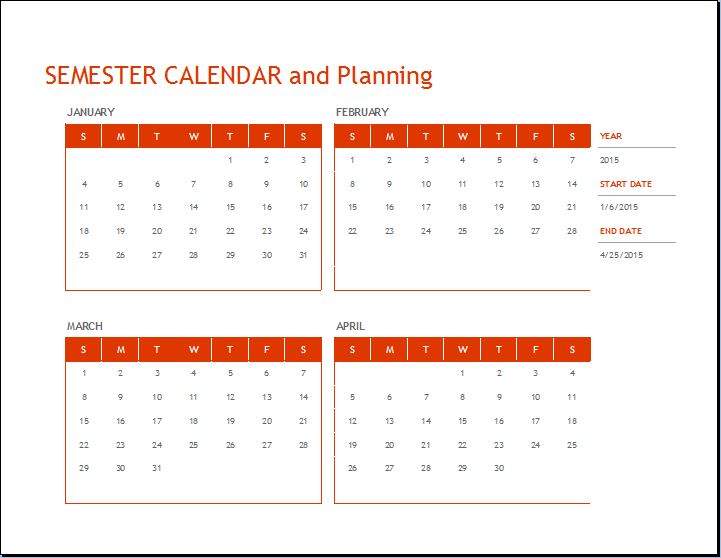 File: Excel (.xls) 2007+ and iPad
Size 61 Kb  |  Download
File: OpenOffice (.ods) Spreadsheet [Calc]
Size 20 Kb |  Download
Reference: office.microsoft.com