Student College Moving Checklist Template
College Moving Checklist
College life is perhaps one of the most exciting phases in a person's life. There are so many exciting events in college that help students in their career along with offering them thrill and adventure at every step of the way. Besides offering excitement, college life also has its stressful moments and anxiety which students experience especially during their initial stage.
One of these moments is the relocation towards a dorm or new residence. Although this phase can be stressful, using the college moving checklist template designed in Microsoft Excel can certainly help you in organizing your needs in a tremendous way.
About Template
The college moving checklist template is a great tool which helps determine your needs as per the college requirements. It also helps you in arranging and moving your belongings to the new area without missing even a tiny step. Following are some of the important tips to help you create an effective college moving checklist:
Try not to get stressed. College life has tons of activities for you so don't focus on negative thoughts.
If you've not been to new campus before, then try to make an early visit to get familiar with the environment.
If you are unable to make an early visit then try to make a research about the college on the internet.
Sometimes you have friends going to the same college as you are. On the contrary, you may not find anyone to accompany you at all.
In this situation find anyone who is a freshman just like you. This is perhaps the most important time to make early friends as the new batch of freshmen surely needs each other's help.
Take all your important stuff, find conveyance and just move on without worries.
Preview and Details of Template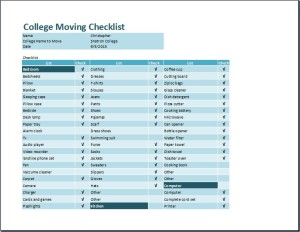 File:Excel (.xls) 2007+ and iPad
Size 29 Kb   |   Download
File: OpenOffice (.ods) Spreadsheet [Calc]
Size 19 Kb   |   Download
License: ENERGY   (Personal Use Only)
(Not for resale and distribution) by Kate Elizabeth(CEO)