Stock Investment Performance Tracker
Stock Investment Tracker
Stocks and shares are considered to be a very complex and complicated component of the financial markets. They are considered as ownership rights in an organization. The markets where these stocks are traded are known as stock markets. Every country has its own stock markets. Companies that want their shares to be traded in a market needs to be registered or listed on this platform. Buyers and sellers can then come together and trade the stocks and shares of various companies according to their preferences.
The people trading in a stock market are known as investors. They bring in money to buy shares that are floated in the market. The profit making of these investors is through changes in the market values of the stocks.
About Template
Therefore to keep a watch on the money and assets that they have invested in, they need to have a stock investment tracker. This document helps monitor the fluctuations and price variations in the stocks that the investor has bought.
The stock investment tracker is usually for a specific period of time. The main goal of the investment portfolio tracking is to capitalize on the right opportunities and make the maximum money with the minimum investments. This is why stocks with higher yields are considered to be the best buys. The stock investment performance tracker helps the user get informed about what stocks he owns, how they performing and what are are the price and market trends in the particular industry.
Preview and Details of Template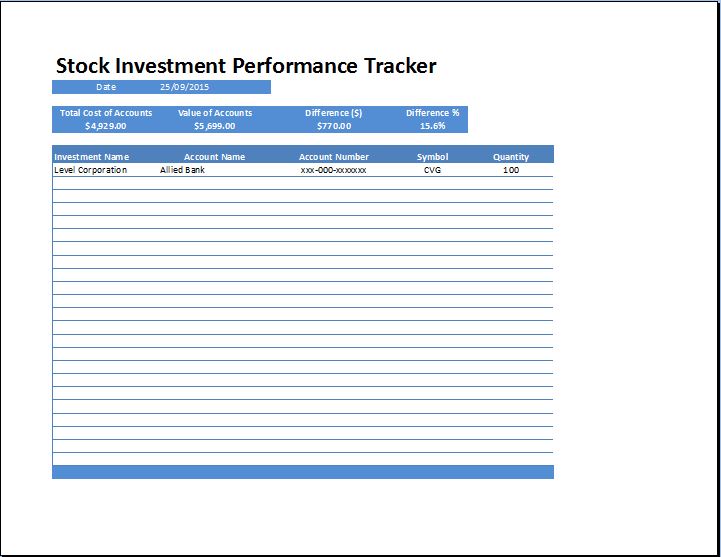 File:Excel (.xls) 2007+ and iPad
Size 23 Kb   |  Download
File: OpenOffice (.ods) Spreadsheet [Calc]
Size 15 Kb   |   Download
License: ENERGY   (Personal Use Only)
(Not for resale and distribution) by Kate Elizabeth(CEO)