Stock Certificate Template
The business operations of the world have evolved a lot over time. Some of the ancient traditions and customs are still practiced but their mechanisms have been altered or modified. The basic concept of business is a trade. This is the exchange of things of value between two or more parties. These things of value are often referred to as stock. In older times people used to trade in different kinds of stock and the stock was physically handed over to the buyer upon payment. But now things have changed a little bit. There are stock certificates that are traded.
A stock certificate template is a piece of document that has a legal value and can be considered as a proof of ownership. Every stock certificate format has an intrinsic value and can be bought and sold several times. The value of a stock certificate can be assessed by an authorized and licensed financial evaluate who carries out a formal inspection of the physical stock of goods and then give it a value that will be reflected on the certificate. There are two purposes of using a stock certificate template. They are given below:
It can be used a document for sharing of allocation of stock
Transfer of goods is often carried out through the transfer of stock certificate.
The contents of the stock certificate are very basic and there is a standard pattern of making stock certificate template. If you desire to draft one for your company or business purpose you can download the template from our websites free of cost.
Preview and Details of Template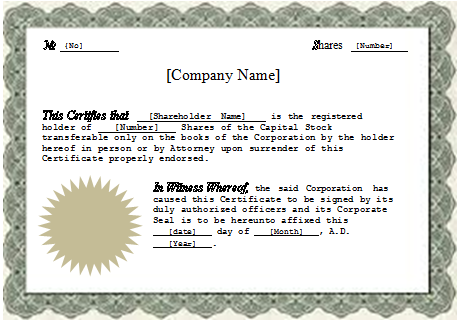 File: Word (.doc) 2007+ and iPad 
Size 161 Kb   |  Download
File: OpenOffice (.odt) Writer [Writer]
Size 150 Kb   |  Download
License: ( General Use)
(distribution) by Kate Elizabeth(CEO)