Sports Excellence Award Certificate Template
Sports Award Certificate
Sports are basically a competition between two or more individuals or two or more groups of people. These groups of people are often referred to as teams. Sport is mostly an event that involves physical and mental exertion of the participants and requires a certain type of skill and strategic intellect to win. In every sport of the world, there is one party who is going to win while the other is bound to lose. In large official tournaments, there are also second and third positions. These are known as first and second runners-up.
About Template
A piece of document that is awarded to the winning team is known as a sports certificate. Anyone who wants to make a sports certificate can download a sports certificate template from the internet and use it to draft his own certificate according to requirements. There are two functions of a sports certificate:
The sports certificate is a proof of winning that can be presented anytime or anywhere by the receiver
It is a motivating factor for the sportsman and gives recognition to his efforts.
In many situations, a sports certificate may only be given for performing well and not just winning. Sometimes it even has a monetary award assigned to it making it very valuable. So the next time you have been given the task to make sports certificates you can easily download a sports certificate template and use it to design and draft your own set of sports certificates.
Preview and Details of Template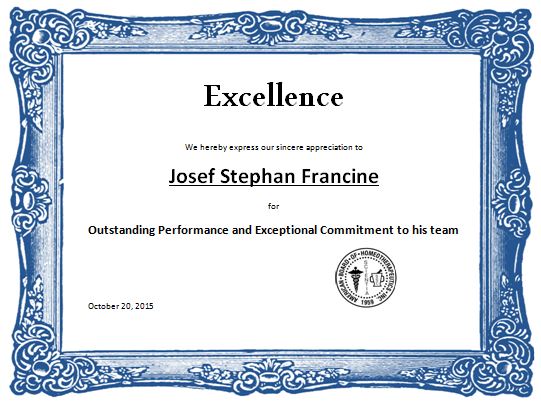 File:Word (.doc) 2007+ and iPad
Size 998 Kb   |   Download
File: OpenOffice (.odt) Writer [Writer]
Size 817 Kb   |     Download
License: ENERGY   (Personal Use Only)
(Not for resale and distribution) by Kate Elizabeth(CEO)