SPA Services Gift Certificate Template
What is SPA?
A place where you get all the services and products related to body treatments that help provide relaxation and beautification of the physical outlook of the human body is called a Spa. A spa can be a health spa or a beauty spa or a mixture of body kinds of categories. Although the spa and beauty related processes are mostly related to women. Men are also shifting their liking towards this field.
What is it to make SPA Gift Certificate for?
The metropolitan men are very conscious about their physical outlook and appearance and are willing to spend the time, effort and money to improve their features. Also because of the busy and tiring life of the large cities, people want to find a place or outlet where they can simply relax and rejuvenate their energies for further struggle of life. Therefore for anyone who is health conscious and is particular about his/her looks and appearance, giving out a SPA Gift Certificate is a very good present for any special occasion.
Usefulness of SPA Gift Certificate Template:
This Spa gift certificate template can be used for a single service only or it can provide a full-service provision. This means that you can limit the gift to a manicure or pedicure or a body massage or you can provide the person with a full range of the services that the spa has to offer. Starting from steam sauna to a good aerobic workout to a relaxing foot massage, the spa is a great place for anyone looking for a relaxing time. The SPA Gift Certificate Template we offering is designed using Microsoft Word. It is accompanied by all editing and download options.
Preview and Details of Template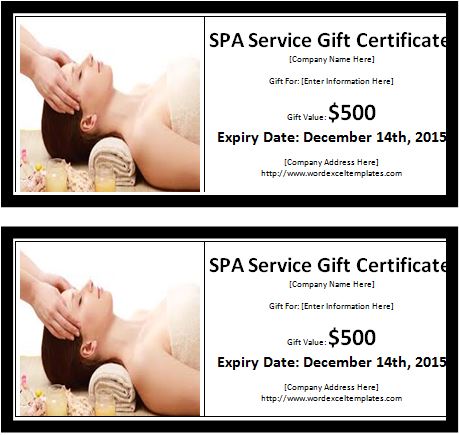 File:Word (.doc) 2007+ and iPad
Size 49 Kb   |   Download
File: OpenOffice (.odt) Writer [Writer]
Size 44 Kb   |   Download
License: ENERGY   (Personal Use Only)
(Not for resale and distribution) by Kate Elizabeth(CEO)