Shoes Shopping Gift Certificate Template
Shopping Gift Certificate
Any gift certificate is used to present a gift to a person and allows him or her to buy any item of their choice from the designated place without making any financial payment. There are many different types of gift certificates available in the market. These include:
Garment shopping gift certificates
Shoes shopping gift certificate
Spa services gift certificate
Saloon gift certificate
and much more…
The shoe shopping gift certificate is a very useful product. It can be bought by physically visiting the shop or outlet or it can be obtained through online web stores and business entities. One can imagine the Benefits of Shoe shopping gift certificate templates.
Advantages of using Gift Certificate
One of the key advantages of using a shoe shopping gift certificate is that if you want to present someone with a shoe pair then you do not have to hassle around and browse several places to look for the product that is according to the liking and taste of the recipient. Another benefit is that shoe shopping gift certificate given to someone allows him or her to purchase the shoes for themselves trying it out and checking for the right size. They do not have to pay any amount as long as the price of the shoes is same or within the value of the gift certificate. Thus the next time you are looking to present someone with a pair of shoes as a gift it is advisable to select a shoe shopping gift certificate for your own good.
Preview and Details of Template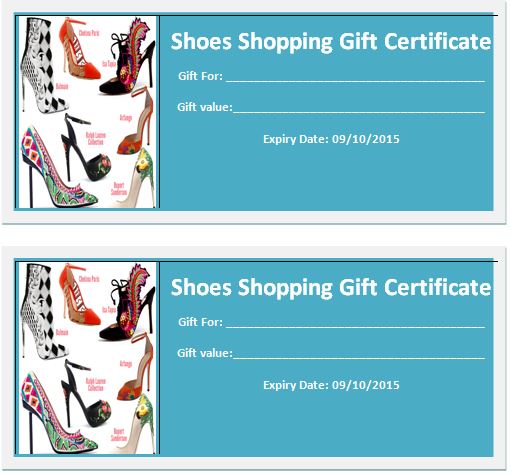 File:Word (.doc) 2007+ and iPad
Size 808 Kb   |   Download
File: OpenOffice (.odt) Writer [Writer]
Size 483 Kb   |  Download
License: ENERGY   (Personal Use Only)
(Not for resale and distribution) by Kate Elizabeth(CEO)