SERVICE RECEIPT TEMPLATE
A service receipt is a hand written or printed undertaking of requesting and providing services. The service providing company is a company which provides services to organizations or individuals in education, legal, maintenance, supplies, financial etc.
A service receipt is an instrument which can serve as the purpose of record keeping for the service provider and the customer. This record keeping is not just important for company inventory and financial records, but important to schedule further services if needed by a particular customer.
The service receipt should be detailed and hold the following record fields :
The name of the customer
The date when the service was provided
The address and phone number of the customer
The name of the service provider
The logo of the service providing company
The method of payment: credit, cash, cheque etc.
The address and contact information of the service provider [Web & landline contact information]
The name and code of each service provided to the client
The person who provided the service
The charges or price of the respective services
The total amount of the list of services provided
The date and time of the next scheduled appointment for a particular service
The Signature of the customer
The signature of the service personnel
The comments regarding the service by both the customer and service personnel
The selection of the template for service receipts depends on the kind of services you provide and the detail required to be displayed in the receipts.
PREVIEW & DETAILS OF TEMPLATE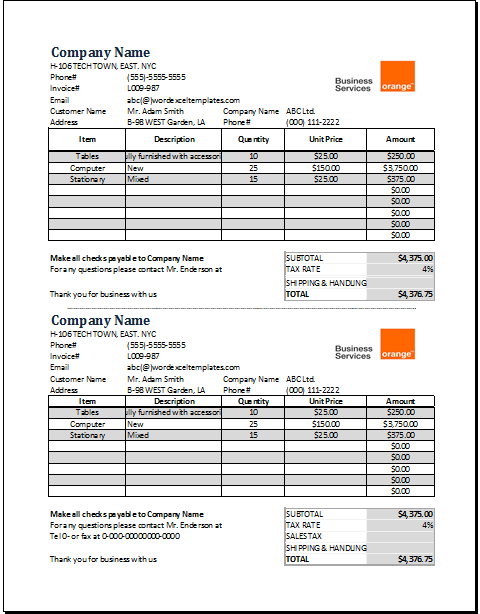 File: Excel (.xls) 2007+ and iPad 
Size 56 Kb   | Download
File: OpenOffice (.ods) Calc [Cal]
Size 42 Kb   | Download
License: ENERGY  (personal use only)
(Not for Resale & Distribution) by Kate Elizabeth(CEO)