Schedule Task List Template
Task List
Business activities and procedures are difficult and cumbersome to be carried out. It requires a lot of efforts and hard work making things work in a smooth direction. There is a number of different functions and departments involved in business activities. Many of these functions divide their tasks into smaller goals and objectives. This allows easy assignment of responsibilities. As the employees become assigned with the tasks, they can also be kept accountable for their own actions.
But due to the large scale of operations, one employee may be assigned to do many tasks at a time. This means that he/she may not remember each thing that he/she has to perform. For this purpose, he/she can make a task list. This is a very important document that contains the activities and chores that need to be performed on daily basis.
The task list template is an easy source of guidance for the employees. All you need to do is download the template and make the modifications according to your work requirements. The given template is also effectively used in project management. It allows the project manager to remain focused on the project in a step wise manner and track progress as well through this list.
The details mentioned in the given sample template can be according to the priority of completion or just as they are assigned. A task list template can also be used for personal purposes by people who remain busy and need a reminder of the tasks they are supposed to do in a day.
Preview and Details of Template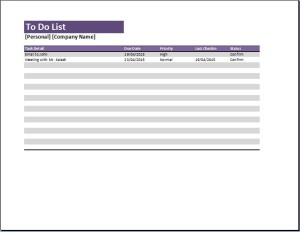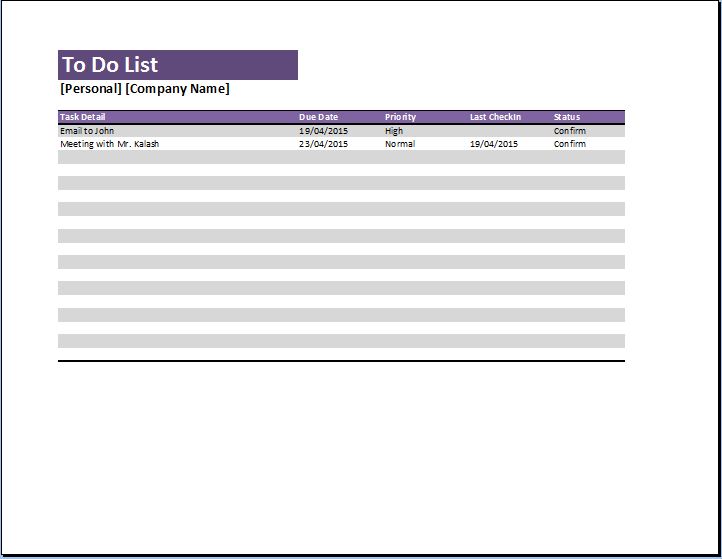 File:Excel (.xls) 2007+ and iPad
Size 20 Kb   |    Download
File: OpenOffice (.ods) Spreadsheet [Calc]
Size 19 Kb   |     Download
License: ENERGY   (Personal Use Only)
(Not for resale and distribution) by Kate Elizabeth(CEO)