Sample Birthday Gift Certificate
Birthday & Gift Certificates
Birthdays are the day where one truly feels like a superstar. Everybody pampers you, wishes you and does things for you to make you feel super special. But when it comes to making somebody else feel like a superstar by gifting them something, it is hard! You go to malls and shops, frantically searching for the perfect present and end up giving them something not worth it.
Gifts on birthdays are tough and to make it a bit easy, you can always opt for a birthday gift certificate! Gift certificates are money equivalent scripts that are issued by various stores, distributors, and retailers.
The interesting fact is that they are the second most gifted present by people in the United States of America!
Gift certificates are useful for the receiver as they have a sample of options of getting themselves something which they actually need and want. When giving someone a birthday gift certificate, make sure that it is one which can be used in a mall, or is valid for more than one store. This would give the user various options to choose from.
Choose a birthday gift certificate template that is lively and depicts the true birthday spirit. You can add a personalized text message at the back to make it even more special. Make sure you carefully view the expiry date mentioned on the card and buy a card which has an expiry of at least a year.
Add a stuffed bear or a box of chocolates along with the gift certificate if you feel like it's not enough.
Preview and Details of Template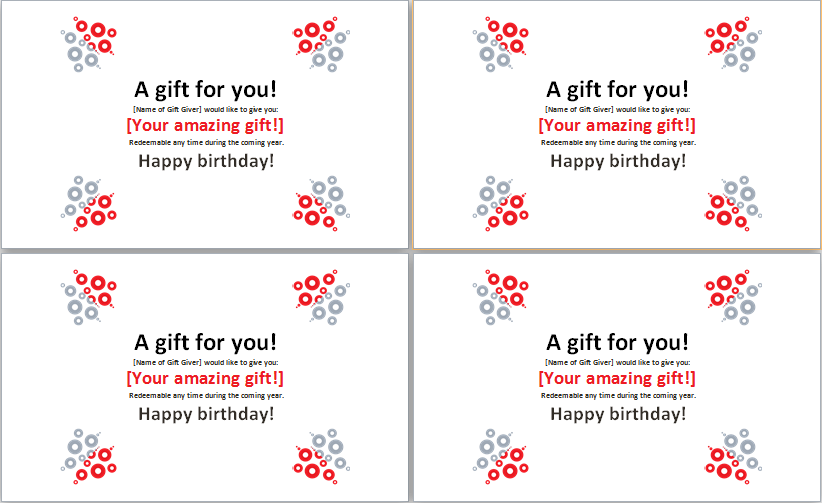 File: Word (.doc) 2007+ and iPad 
Size 452 Kb   |  Download
License: ( General Use)
(distribution) by Kate Elizabeth(CEO)