Retirement Financial Planner
Retirement Financial Planner
It is better to plan for your retirement at the earliest to attain better results for the future. To get fully prepared and ready for the retirement, we require an exact analysis of our savings, expenses and all other forms of related information. A retirement financial plan template can help you in maintaining accounts of savings in order to make sure that you achieve your retirement goals when the time comes.
A retirement financial planner greatly helps in evaluating how much we are currently saving, for how long these will last and in how much time can we be able to retire from work.
About Template
A retirement planner template can:
Help you maintain accounts of your savings and tax effects on your earnings.
Help you create a financial plan for the future.
Help you calculate an insurance plan for safeguarding your family needs.
Help you plan important family objectives such as marriages, education and health needs.
Help you designate priorities to each of your family goals for a better future.
Help you develop a feasibility plan to achieve each of your goals successfully for family needs.
Help you strengthen your family by developing a reliable financial plan to meet all forms of expenditures in a most effective way.
Help you in maintaining and organizing crucial data such as income, expenses, investments, pension funds, medical needs and other similar information.
Help you combine all your important retirement data into a single system for quickly accessing and planning.
Preview and Details of Template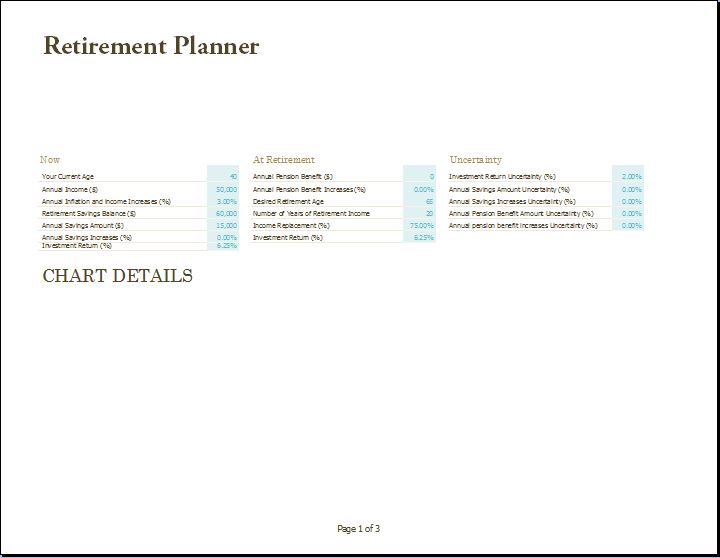 File:Excel (.xls) 2007+ and iPad
Size 229 Kb   |  Download
File: OpenOffice (.ods) Spreadsheet [Calc]
Size 45 Kb   |    Download