Restaurant Services & Receipts
A receipt is an acknowledgment of transaction of money done in return of a purchase or use of service. All good and professionally run food out lets and restaurants have a record of each of the purchase made at their restaurant and outlets. This information is vital for their inventory record, calculation of profit and loss statement and calculation of tips for the waiters. The restaurant receipt is a detailed invoice of the services you used at a restaurant or the food that you ordered.
The information that the restaurant receipt holds is the logo and the name of the restaurant, the date the receipt was issued, the address and contact information of the restaurant, the name of the waiter that attended your table, the itemized detail of the food your ordered, the price of each food item and the grand total of the invoice presented to you.
Templates
Some restaurants use a computerized mechanism to print the receipts while others use pre-printed receipts that are to be filled by hand. At the end of the receipt there is printed thank you message or other promotional information and the amount of tip you want to give. The mode of payment is also mentioned and if you have used credit card then a credit card bill receipt will be attached to the sample restaurant receipt. Some receipts have information about the money paid and the change returned to the customer also. A number of restaurant receipt templates are available and you can choose according to your business setup.
PREVIEW & DETAILS of TEMPLATE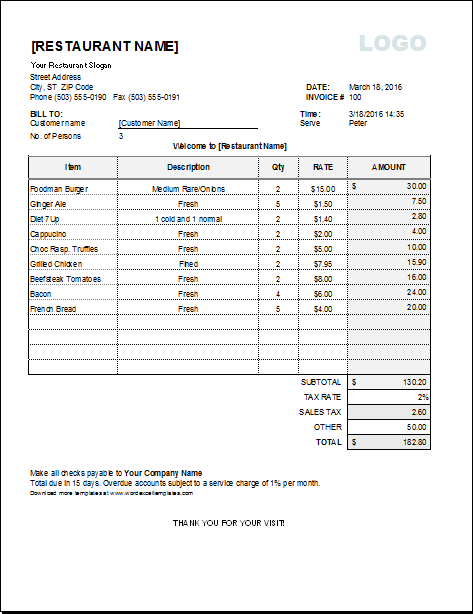 File: Excel (.xls) 2007+ and iPad 
Size 34 Kb   | Download
File: OpenOffice (.ods) Calc [Cal]
Size 21 Kb   |  Download
License: ENERGY  (Personal Use)
(Distribution) by Kate Elizabeth(CEO)