Hotel Reservation & Receipts
Reservation means booking of a product or service ahead of time of usage. It is usually done when you want to use a service or a product in near future and you pay some amount of the price when you make a reservation. Nowadays it is very easy as payments and reservations can be made online.
When you make a reservation and pay the required amount, the company issues a receipt to acknowledge that they received the payment for the advance booking of the product or service you require. The remaining amount is paid when you receive the product or service.
The receipt that the organization issues as an affirmation of payment made for reservation are called the reservation receipt. Although this receipt can be used by almost any genre of business, it is usually used in Hotels, Airlines, Travel agencies, tours and trips, boutiques and event management companies. The reservation receipt helps the companies to know their schedules and estimated business and client turnover. It helps the clients to plan their schedule and traveling time table. The information the receipts holds is as follows:
The name of the company
The logo of the company
The contact information of the company
The name of the client
The contact information of the client
The date the reservation was made
The receipt id
The reason or services for which the reservation is made
The price for each service separately
The total price to be paid
The date for which the reservation is made
The time period for which the reservation is made
The mode of payment
The signature of the person who issued the receipt
There are different templates available for reservation receipt. You can choose according to your business needs.
Preview and Details of Template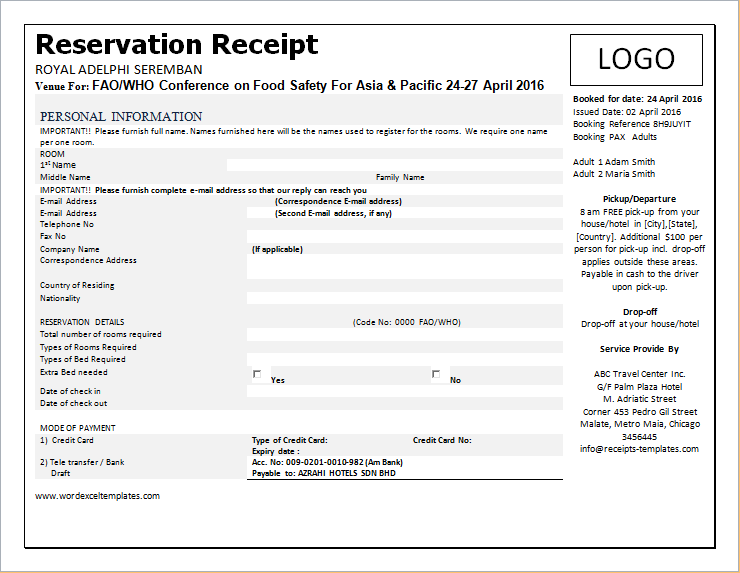 File: Word (.doc) 2007+ and iPad 
Size 64 Kb   | Download
File: OpenOffice (.odt) Writer [Writer]
Size 25 Kb   |  Download
License: ENERGY  (General Use)
(Distribution) by Kate Elizabeth(CEO)