Request Letter for Delivery of Material
The request letter for the delivery of a material is used when you want to request the supplier for the supply of goods. This is a very common letter which is used in businesses for the exchange of goods or ordering goods for delivery on franchises or on retail stores.
The letter is started with the details about the initial request of the material that you made. The quantity of the item, as well as the price per unit, should be mentioned in the letter while requesting the delivery.
This letter is usually written when you have ordered the material but it has not reached up till now. First, you should know the average delivery time told by the supplier.
If the material has not reached in the specified delivery time, you can write this request letter to the supplier in order to make him deliver the material. Sometimes the supplier forgets to process your order of material. This letter serves as a reminder of such a situation.
Since it is a request letter, it should be treated as a formal document. The tone of the letter should be formal and everything should be drafted in the letter very concisely. There should not be unnecessary details in the letter which are not relevant to the subject.
Make sure that the details about the material to be ordered are complete and enough for the supplier to identify your order.
Letter:
This letter is being written to bring my request to your notice that has been pending for last two weeks. I submitted the request for the material on 5th of November. It has been 2 weeks since I placed the order but no material has been delivered to me.
The material requested is very important for the ongoing projects. Because of unavailability of the material, I am unable to complete my work in the desired amount of time. Because of this, I am going to be answerable to the client for late work.
I request you to take immediate actions and figure out the reasons for late delivery. I am looking forward to immediate response from your end. Thank you for your anticipation.
Preview and Details of Template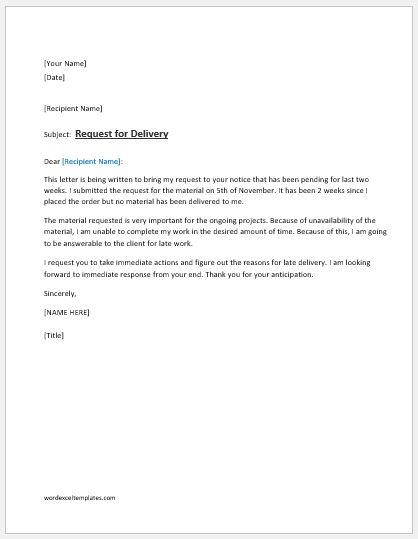 Letter Template
File: Word (.doc) 2007+ and iPad 
Size 18 Kb   |  Download
[Personal Use Only]