PRODUCT PURCHASE RECEIPT
Acquiring or buying a product or services for an individual or an organization is called purchase. The invoice or instrument serving as a medium of authentication for this process is called a purchase receipt. Whenever a purchase is made a receipt is printed. A purchase can be made by an individual from a retail outfit or a service provider. But most commonly these purchase receipts are used between buyers and suppliers. A buyer can be a retail outlet or an assembling out the outlet. Suppliers can be distributors and raw material providers. In any scenario, for an individual or organizational capacity, the purchase deed is called the purchase receipt.
There are a number of different templates available on the Internet. You can choose a template whose layout and fields fulfill your company's requirements. Generally, the information that is displayed on the purchase receipt is as follows:
The name of the seller
The name of the buyer
The address of the seller
The address of the buyer
The date of the purchase
The name and code of the product or service
A brief description of the product or service
The sum of money as per quantity of the product
The grand sum of complete purchase
The method of payment e.g by cash, by cheque or by credit card etc.
In the case of purchase between two companies additional information about whether the purchase was on credit to be paid later. This receipt is then signed by the person responsible.
PREVIEW AND DETAILS OF TEMPLATE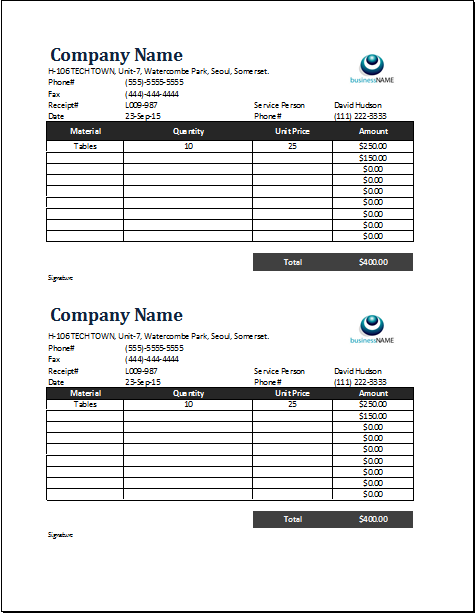 File: Excel (.xls) 2007+ and iPad 
Size 65 Kb   | Download
File: OpenOffice (.ods) Calc [Cal]
Size 48 Kb   | Download
License: ENERGY  (personal use only)
(Not for Resale & Distribution) by Kate Elizabeth(CEO)