Purchase Invoice
A purchase invoice template is that legal document which is prepared by the seller. It clearly mentioned the quantity, complete description and nature of services or goods, respective price against services and goods and all the other details about the goods and services provided. This invoice also includes the contact details of the seller or vendor and the buyer. A purchase invoice is considered to be a beneficial document for both the parties the buyer and the seller. If any professional or concerned business personnel wish to prepare a purchase invoice on his own, he should use given invoice template or purchase order invoice as a sample template.
About Template
This purchase invoice will be a quite helpful tool in this regard. This invoice can be got prepared by some professional by paying his fee or can be downloaded for free from websites providing these templates with or without any cost. In case you decide to create your own template or want to get it prepared from a professional, it will cost a lot of time and money. But if you will download this invoice online for free it will cost you no time and no money. Just you would need to do is to modify and edit it according to your requirements and will need to add or delete few fields as per your details.
If a product is in transit, the purchase invoice is helpful in finding the exact details that why the product is in transit. Whenever there are found any discrepancies regarding taxation, these can be settled only with the help of purchase invoice. A number of details about the purchase are mentioned in this invoice including service tax, the percentage amount levied on tax i.e. sales tax and other relevant particulars of the product.
Preview and Details of Template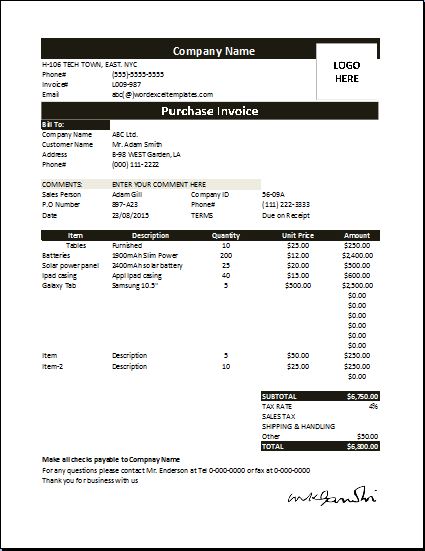 File:Excel (.xls) 2007+ and iPad
Size 45 Kb   |   Download
File: OpenOffice (.ods) Spreadsheet [Calc]
Size 36 Kb   |   Download
License: ENERGY   (Personal Use Only)
(Not for resale and distribution) by Kate Elizabeth(CEO)