PROFESSIONAL SERVICES RECEIPTS
Mental health is equally important as physical health and in some cases even more. So, periodic examination trips to mental health care providers or psychologists are vital too. Like physical examination fee charges, these visits are also required to be kept in record.
When you visit a psychological health care provider, they might refer you to some specialist. That specialist might prescribe some medications and you may be being asked for a revisit. All this information along with the amount of money you paid for the services provided to you by your psychologist. Apart from this the name and address of the patient and doctor, date and time of the visit, the name and address of the mental health facility are also recorded in the psychologist receipt. The insurance number of the patient, if it covers psychological visits and treatments, are also mentioned in the receipt as part of the record.
The psychologist receipt templates available give you a variety of options to choose from. They have a place where the logo of the clinic can be added. These receipts can be printed on paper or emailed as e -receipt. This receipt is not just for the record keeping of the patient or the clinic but also for the practitioner psychologist. If the patient is required to have a revisit then the receipt is important to keep track of the payments and visits made. The patients can monitor the budget required for the complete treatments and the medication they are taking by using these psychologist services receipts.
PREVIEW & DETAILS OF TEMPLATE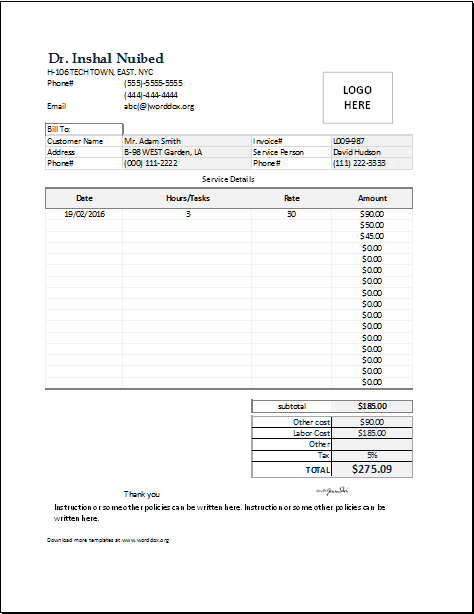 File: Excel (.xls) 2007+ and iPad 
Size 56 Kb   | Download
File: OpenOffice (.ods) Calc [Cal]
Size 32 Kb   |  Download
License: ENERGY  (personal use only)
(Not for Resale & Distribution) by Kate Elizabeth(CEO)