Profit and Loss Statement Template
Income and Expense Statements
Profit and loss statement is a documented record of the revenues, income, and expenses of a business during a specific period of time. It can portray the ability of the organization to generate profit. It helps you to analyze the potential of an organization to generate profit. The business owner can reduce his/her expenses of the business by having a careful analysis. The statement is also known as an income and expense statement. If you want any kind of help in its preparation, you can download sample profit and loss statement template designed for you. The template is based on the standard format commonly used in the business world.
Uses of Profit and Loss Statement:
Profit generation is the basic aim of every business. It needs, efforts and proper management to run every business, and hence to add all luxuries in life. Due to this fluctuating economy, it is important to have a complete record of your business income and expenses to know either your business is making a profit or going into loss. Your work will become really easy by creating a profit and loss statement.
The given template is designed for your help as it is prepared using standard professional expertise. It is designed to facilitate almost all types of businesses. Just download it and input your details, it will automatically calculate everything according to your values. You will get a clear picture of income and expenses of your business.
Preview and Details of Template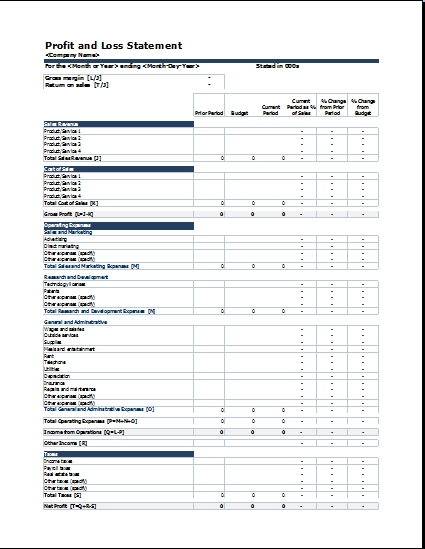 File: Excel (.xls) 2007+ and iPad 
Size 35 Kb   |   Download
File: OpenOffice (.ods) Spreadsheet [Calc]
Size 20 Kb   |   Download
License:  (Free Use)
(distribution) by Kate Elizabeth(CEO)