PROFESSIONAL EMPLOYEE REFERENCE LETTER
REFERENCE LETTER FOR PROFESSIONAL EMPLOYEE
A reference letter is also known as recommendation letter. It is written to describe the character, skills, and achievements of a person. When applying for a job in any company, a candidate should submit a reference letter. The letter supports his application. A reference letter for professional employee demonstrates the applicant's qualifications, work experience, and his abilities. The letter can also be written by the supervisors, customers or co-workers of the company in which you had worked previously. It should be hand written.
As an applicant for the job, you must include your current resume and curriculum vitae along with the transcript. A brief description of the job position for which you are applying for should also be included in the letter. Information about the company should also be demonstrated in the letter. The letter should be not more than one or two paragraphs. You should explain why you are capable for this position and what benefits the company may get after selecting you as an employee.
An employee should introduce his/herself in the starting lines of the letter. The letter should include the title of the job of an employee and his role in the company. The status of employment such as previous, current, part-time, full-time, permanent or temporary should be included in the letter. The date of the applicant's employment should also be included in it. The candidate must describe all of his skills such as communication skills, organization skills in the letter as this will leave a good impression on the employer.
PREVIEW AND DETAILS OF TEMPLATE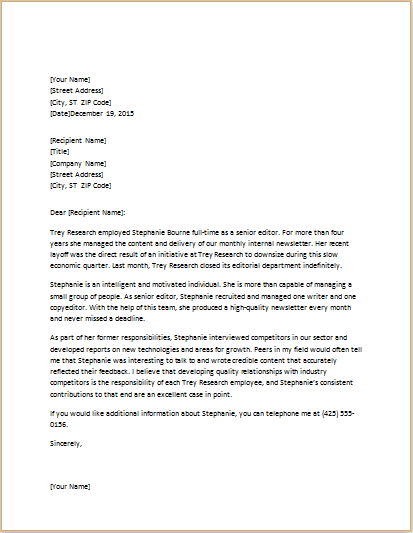 File: Word (.doc) 2007+ and iPad 
Size 26 Kb   | Download
File: OpenOffice (.odt) Writer [Writer]
Size 19 Kb   |  Download
License: ENERGY  (General Use)
(Distribution) by Kate Elizabeth(CEO)