Prize Winner Award Certificate Template
Prize Winner Award
A prize winner certificate template is easily available on the websites of various organizations or anyone can find it by searching for it on a search engine. If you want to award a certificate to an individual for him or her winning a sports event or any other academic or extra-curricular activities then you can download the winner certificate template very easily and conveniently.
The certificates are awarded to a winner for several reasons. Some of its common benefits and advantages include the following:
When a winner certificate is provided to an individual who has won an event of activity he or she will feel motivated to work hard and excel in his or her field
The presentation of winner certificates helps give personal recognition of his or her efforts and hard work put into the particular activity and event.
The winner certificate is a piece of document that acts as a proof of winning and can be used as a reference in any other future endeavor as well.
The contents of the winner certificate may vary from institute to institute but the basic information remains the same. The winning certificate contains the name of the person getting the certificate along with date and session. It also highlights the event that the person has won and the institution or organization that has organized that event. So the next time anyone is looking for a guideline to draft and design a winning certificate they should search the internet and use the template as a basic starting point.
Preview and Details of Template

Prize Award Certificate
File:Word (.doc) 2007+ and iPad
Size  620 Kb   |   Download
---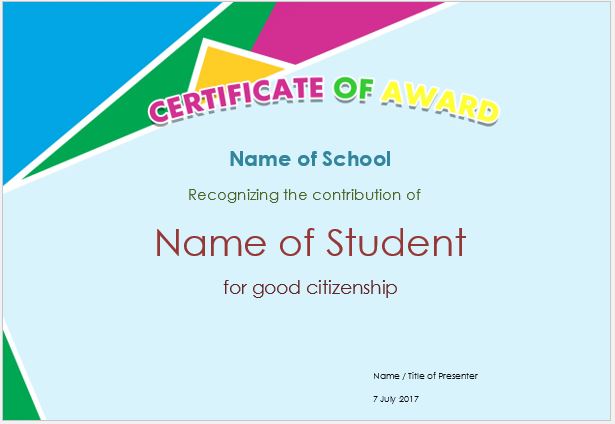 Prize Award Certificate
File:Word (.doc) 2007+ and iPad
Size  620 Kb   |   Download
---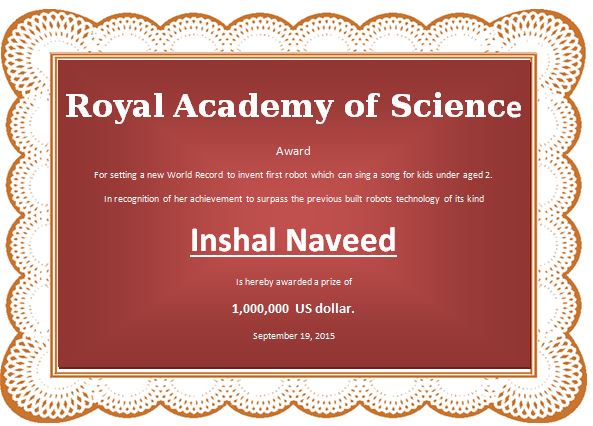 File:Word (.doc) 2007+ and iPad
Size  420 Kb   |   Download
File: OpenOffice (.odt) Writer [Writer]
Size 230 Kb   |     Download
License: ENERGY   (Personal Use Only)
(Not for resale and distribution) by Kate Elizabeth(CEO)