POWER OF ATTORNEY LETTER FOR CHILD CARE
POWER OF ATTORNEY LETTER FOR CHILD CARE
People can't always be there for the child care. So, they can write power of attorney letter for taking care of their loved one. The letter can be given to someone who is trustworthy and has an ability to make firm decisions on your behalf. The letter ensures that care will be taken of your child in your absence.
A power of attorney letter for child care is used to allow an individual to take decisions for your child. The person will have a legal right to take important decisions considering your child's health care and education. The power of attorney can be given for a specific period of time. It is effective for 6 months maximum but the time period can be limited to as little as the parent want. But it cannot be extended beyond 6 months.
A new power of attorney letter will be required after the expiration of 6 months. It should be agreed by all the parties.  It can be withdrawn at any time the parent want even before the expiration date.
A power of attorney letter is a document which must be signed by the parent of a child. The letter should be signed in front of a notary public and another witness. The letter must also be signed by the witness. Two copies of the letter should be notarized. One original copy should be kept with the parent and the other should be given to the person with the power.
PREVIEW AND DETAILS OF TEMPLATE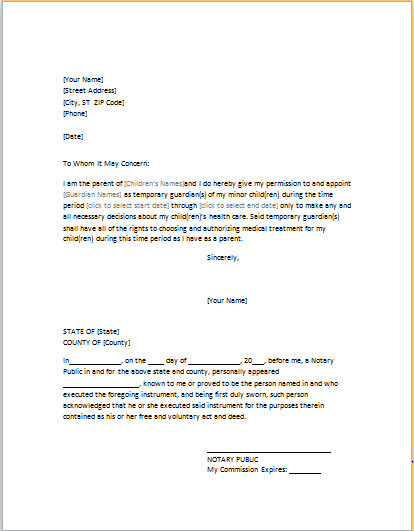 File: Word (.doc) 2007+ and iPad 
Size 25 Kb   | Download
File: OpenOffice (.odt) Writer [Writer]
Size 17 Kb   |  Download
License: ENERGY  (General Use)
(Distribution) by Kate Elizabeth(CEO)