Picnic Party Invitation Template
Picnic Party & Readymade Invitation Templates
When planning for a picnic party for your friends, family or colleagues, you have to make sure that everything is perfect from the venue to the food. The most important thing is the picnic party invitation as this will be sent to the guest before the picnic and it has to be appealing so that the guests come to the picnic. It should have all the important information that is needed for the guests to know. It should not be filled with too much information but specific.
If you are planning a picnic and need help with the picnic party invitation, then you can take help from a picnic party invitation template. The template shall contain all the necessary information that you have to enter in your invitation and get the best invitation for your picnic. You can even have the design from the template and just put in the information in the spaces and you are good to go.
Most of the templates are editable, so you can edit them as well if you want to add anything from your end. The main purpose of such templates is to save your time and effort by providing you a sample design and giving you an idea as to prepare an invitation for your picnic. You can download various templates from the internet and get an idea.
Preview and Details of Template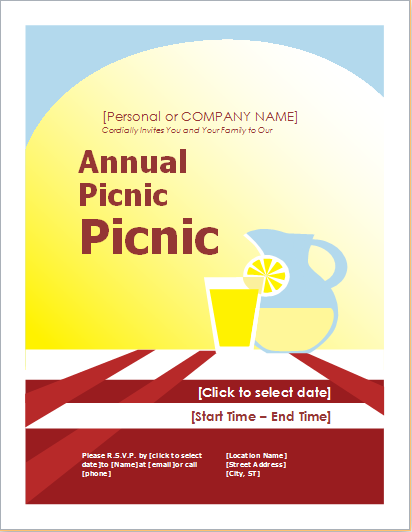 File: Word (.doc) 2007+ and iPad 
Size 62 Kb   |  Download
File: OpenOffice (.odt) Writer [Writer]
Size 39 Kb  |   Download
(General Use)